Glamping in Banff's Backcountry:
The Banff backcountry is simply stunning – the kind of natural beauty that makes you fall silent with awe.
However, many people don't venture deep into the wilderness. They don't get to see the way the setting sun turns the mountain-tops to gold. They don't experience the hushed reverence of a starry night, with no streetlights or neon to block out the riot of stars.
Why don't they?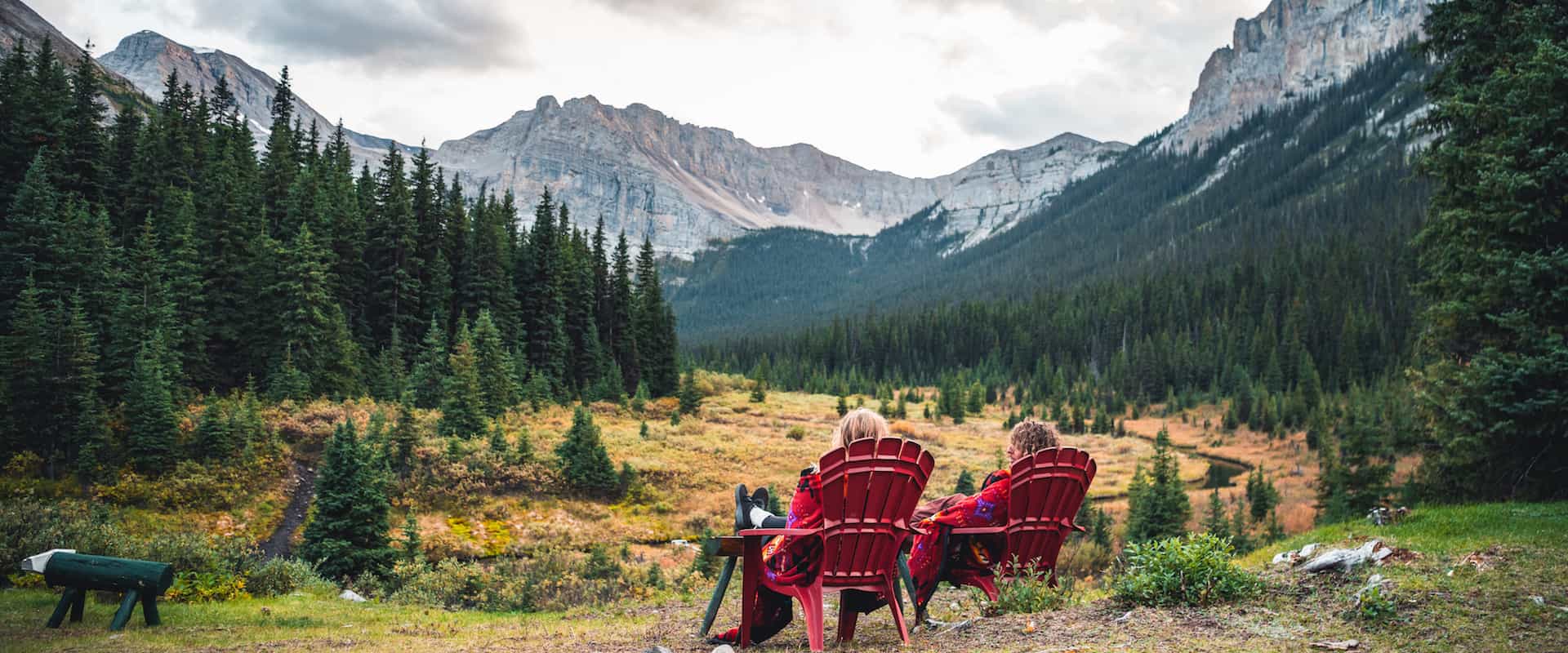 Well, because sometimes camping is a bit of a pain. You have to lug all of your gear out into the backcountry, set up your tent, start a fire, cook with minimal equipment and sleep on a thin mattress on the cold ground. For some visitors, it's just not worth it.
However, there is an alternative. Glamping is a new type of camping that is happening all over the world – even in the backcountry of Banff. It is a style of exploring the wilderness that features much more comfort and less roughing it.
Glamping lets you have your cake and eat it too – so that you can enjoy the backcountry without having to be uncomfortable.
What is Glamping?
Glamping is a portmanteau that combines the words "glamour" and "camping." Essentially, it is a camping experience that offers more comforts and luxuries than the basic "roughing it" style of sleeping in the woods.
It is a hot trend at the moment and there are many tour companies and campsites in Banff that are offering experiences in the Canadian backwoods that would qualify as glamping.
"I think of glamping as upscale camping – with more amenities and luxuries." says Leigh McAdam of HikeBikeTravel.com – one of the most recognized and praised Canadian adventure travel blogs on the web.
"Glamping is great for people new to camping who aren't sure whether they'll like it," Leigh says, "It allows them to get their feet wet without committing to a lot of expensive purchases. It also serves to protect you from the elements and even bugs and bears – something that traditional camping is unable to do.
There is no specific line that distinguishes the difference between camping and glamping – there are varying degrees of luxuriousness available and a huge range of creative types of accommodations.
Sometimes glamping can mean staying in a campsite that is equipped with hot shower and barbeque facilities. Or, it could mean staying within a beautifully furnished yurt with a hot tub outside, or in a stylishly appointed vintage Airstream trailer. There are as many different approaches to glamping as there are glampers – so keep your options open and you'll be sure to find an outdoor experience that suits you.
Often glamping accommodations have a focus on the little details that make your stay more enjoyable. You'll be sleeping in a bed under a duvet rather than in a sleeping bag on the ground. You'll have a flush toilet, a shower and sometimes even electricity and Wifi.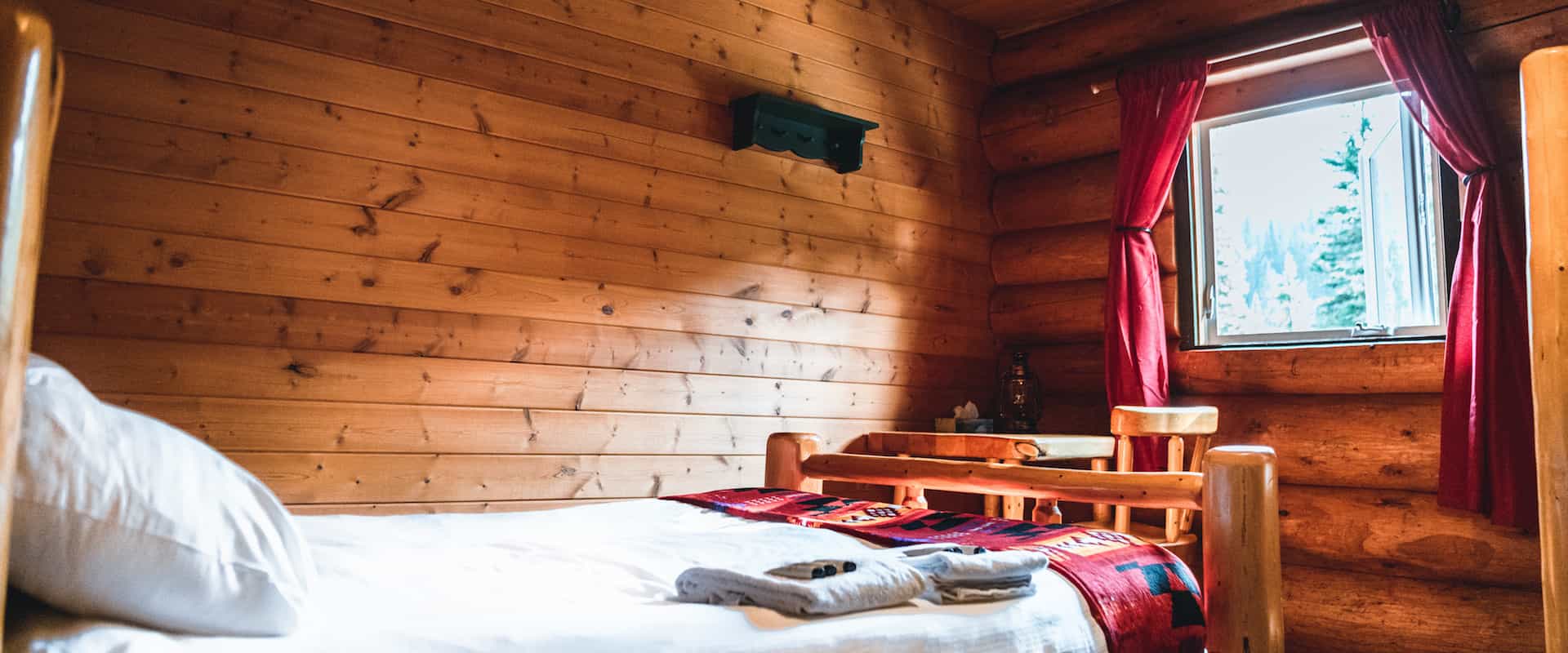 There is certainly an element of style involved as well and glampers don't only want their accommodations to be comfortable – they also want them to be beautiful. "When my glamping friends take their campers to "glamp outs" they set up all their inside and outside décor," says travel blogger Meghan Cave of ATinyTune.com.
The campers are decorated with coordinated rugs, awnings, patio furniture and other details, even down to the glasses, dishes and cups. Every aspect of the camp is chosen not only for its practicality, but also for its charm and style.
Why Go Glamping in Banff?
The oTENTik accommodations in Banff offered by Parks Canada are a great example of glamping. They are a mix between a rustic cabin and a tent and they have three comfortable beds within. They can fit up to 6 people and they come equipped with nearly everything that you need, including bunk beds, heat and electricity.
Another option is staying at one of the 22 equipped campsites in Banff. They are located in scenic sites such as Two Jack Lake and all you have to bring is your sleeping gear, water, food and cooking utensils. The tent, picnic table, wood and firepit are all supplied. Once you get settled in, a Parks employee will visit and bring you more stuff, including a lantern, propane tank, camp stove, info on hiking trails and a deck of playing cards.
Banff also has a couple of gorgeous backcountry lodges that offer style and comfort in the middle of the wilderness. Sundance Lodge is only 10 miles from Banff, but it is surrounded by the peaceful quiet of the forest. It's located near the original Ten Mile Cabin, which was built in 1923 and used as a rest shelter for intrepid explorers on their way to Mount Assiniboine.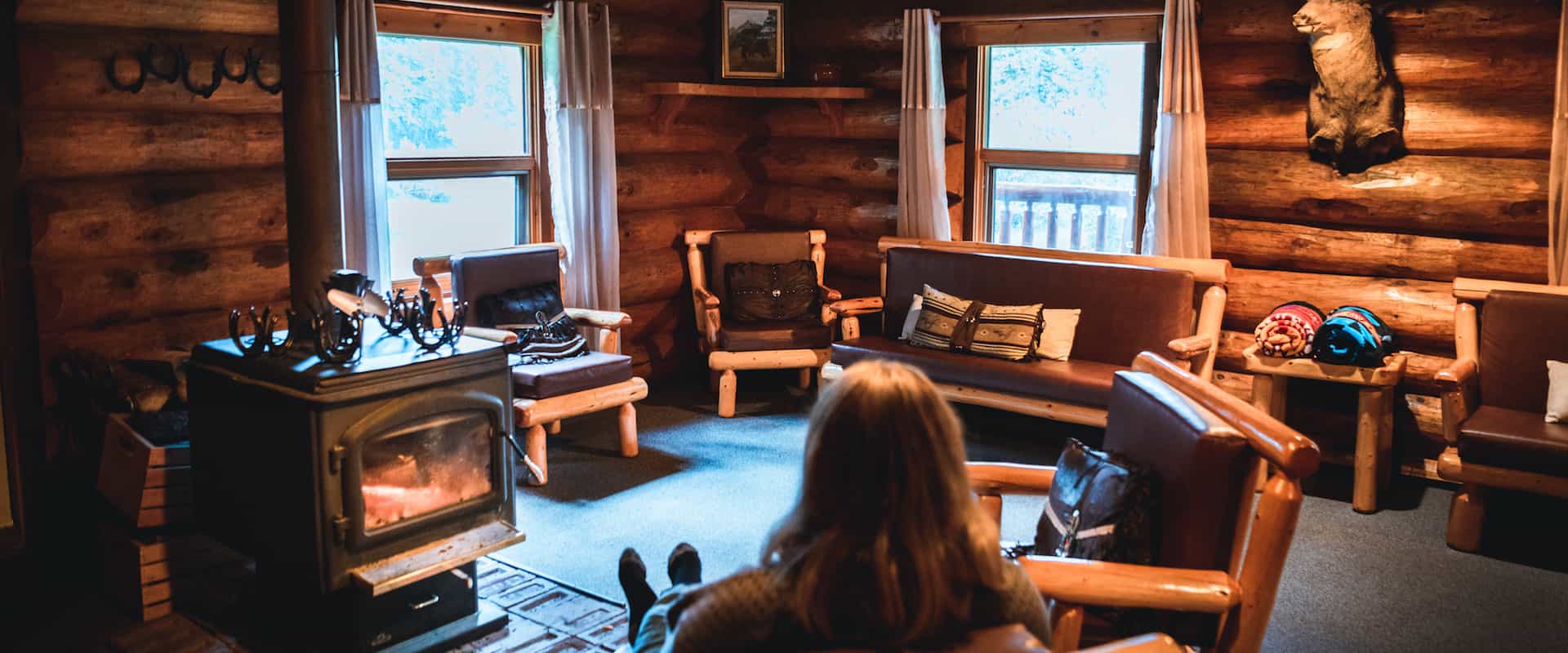 It's the ideal place to relax by a crackling fire, watch for wildlife and rest your tired bones after a long day of horseback riding or hiking.
Halfway Lodge is another traditional log cabin that wraps you in comfort in the middle of nowhere. Located at the base of Allenby Pass, it is lit with propane lanterns, candles and hearty meals that are cooked on a wood stove. Staying in either of these rustic and welcoming backcountry lodges is a great way to experience the Rocky Mountain wilderness while being sheltered from the elements.

What are the Advantages of Glamping?
"You get the best of both worlds." says Silke from the travel blog HappinessandThings.com. "The feeling of being away from it all, of being one with nature and of making unforgettable raw experiences without the distraction of smartphones, electronics and social media."
"On the other hand," she continues, "You don't have to put up with all the inconveniences of regular camping experiences such as bugs and critters, sleeping on the floor and substandard toilet facilities."
Glamping facilities are often within structures such as tents and yurts that allow a connection with the outside world.
The fabric walls and lack of windows will unite you with your surroundings and the smells, sounds and sights of the bush. You'll get up close to the stunning beauty of Banff while still getting a restful night's sleep and feeling clean and refreshed.
Meghan also adds that one of the advantages of glamping is that you will likely be staying in a more social environment and you will have a chance to meet other travellers. "The biggest advantage for me has been all of the people I've met." says Meghan.
"I initially was a member of the national group "Sisters on the Fly" and I attended an event with that group where I met the founders of the "Rocky Mountain Glampers".  I've met and traveled with so many wonderful people."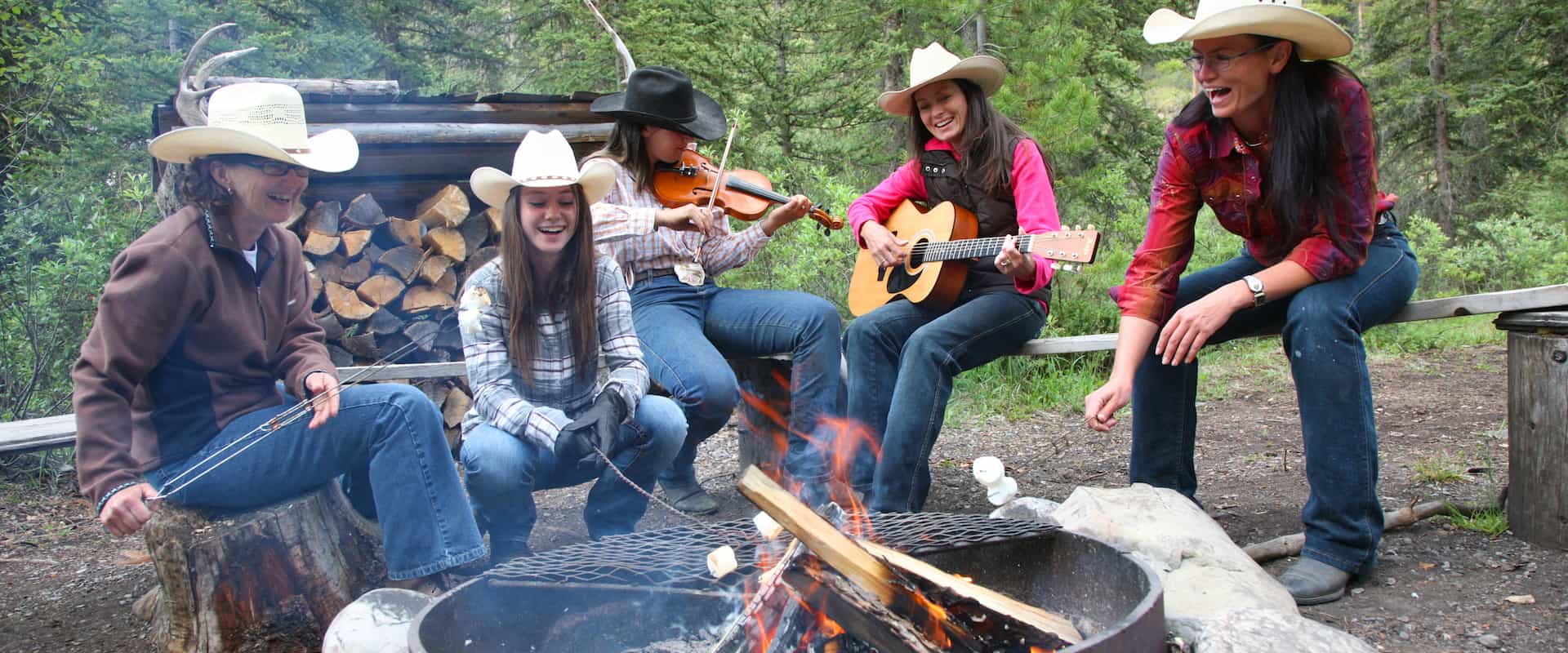 Is Glamping Right for You?
If you are the type who gets a thrill out of camping in the most minimalist way possible, glamping might not appeal to you. However, if you are interested in seeing Banff's wild places but don't enjoy roughing it, then you may just love glamping. You can simply relax on your vacation, rather than having to do the hard work of setting up camp, chopping wood, etc.
"There's no need to pitch the tent or to move the van." explains Silke. "Once you arrive everything is already prepared for your holiday in nature. Some glamping sites offer luxury bedding, carpet and furniture, private open-air bathrooms. This way you can sleep in comfort yet awake with the birds and the sounds and the smells of nature."
Leigh also adds that even travellers who usually don't mind roughing it sometimes also appreciate a more luxurious glamping experience for a break every now and then. "As much as I love camping it can be a treat to be able to stand up in a tent and sit indoors on a chair in a storm. Perhaps even enjoy electricity. In Dinosaur Provincial Park it was wonderful to have an electric fan on a 35C day."
"Even though I consider myself to be a hardcore camper, a little luxury on occasion is really appreciated."
Do you like roughing it, or do the comforts of glamping appeal to you more? Tell us about your favourite camping style in the comments.
Like this article? Pin it! or share these tips for horseback riding in Banff National Park, with other travellers.