Why is a lodge-to-lodge horseback riding vacation so special?
Banff Trail Riders offers a rare travel experience – they are one of the few outfitters in Canada to offer lodge-to-lodge horseback riding trips.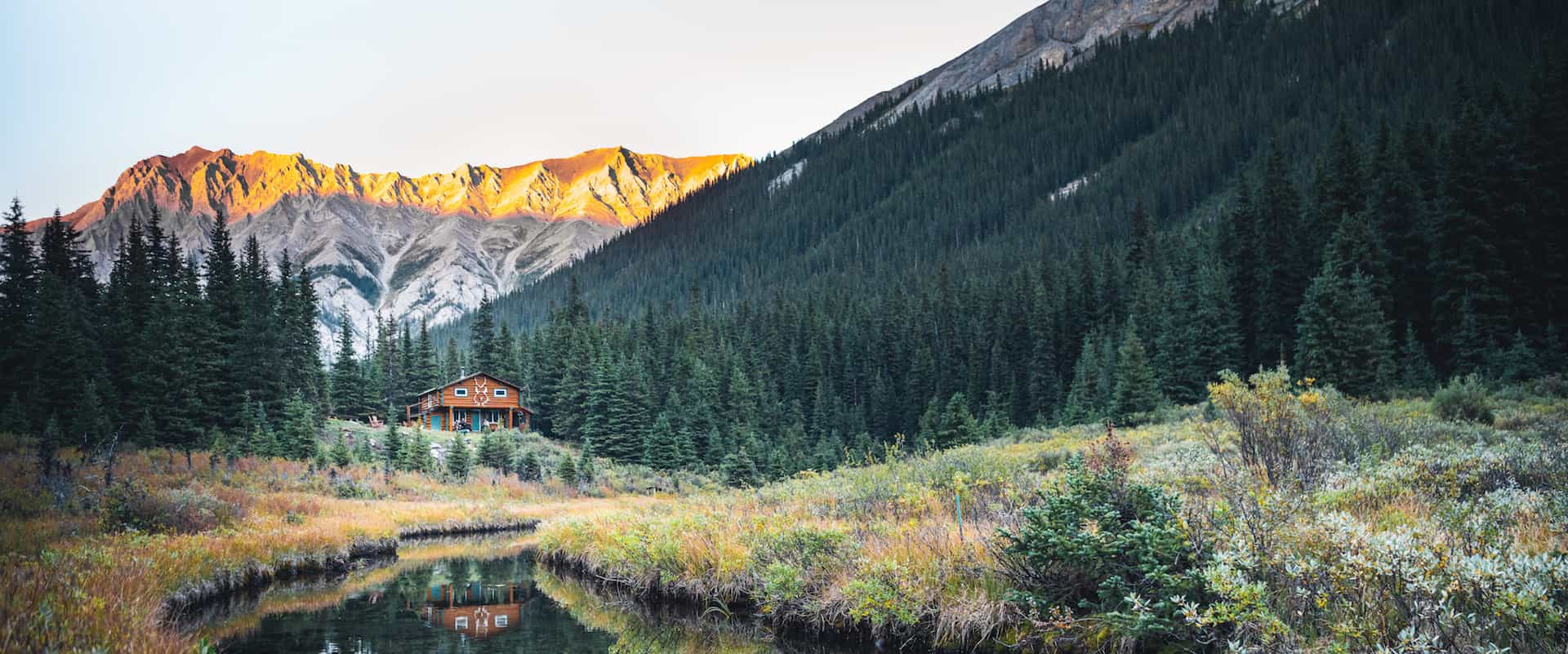 And on these adventures, you ride horses deep into the wilderness and stay at remote lodges overnight. Lodges that are much more comfortable than tents, which is the typical backcountry accommodation.
Although rare in Canada, lodge-to-lodge horseback riding vacations are popular in other parts of the world. For example, these types of trips are offered in Ireland as part of a historic tour and also in the mountains of Mexico. There's even a lodge-to-lodge horseback riding trip to Machu Picchu in Peru.

But none of these adventures can match the untouched natural beauty you experience while exploring the Banff wilderness.
So why is a lodge-to-lodge horseback riding vacation so special? What makes this experience unlike any other type of tour? Here are a few things that make this type of backcountry adventure really stand out.
Experience Remote Parts of Banff Most Visitors Don't See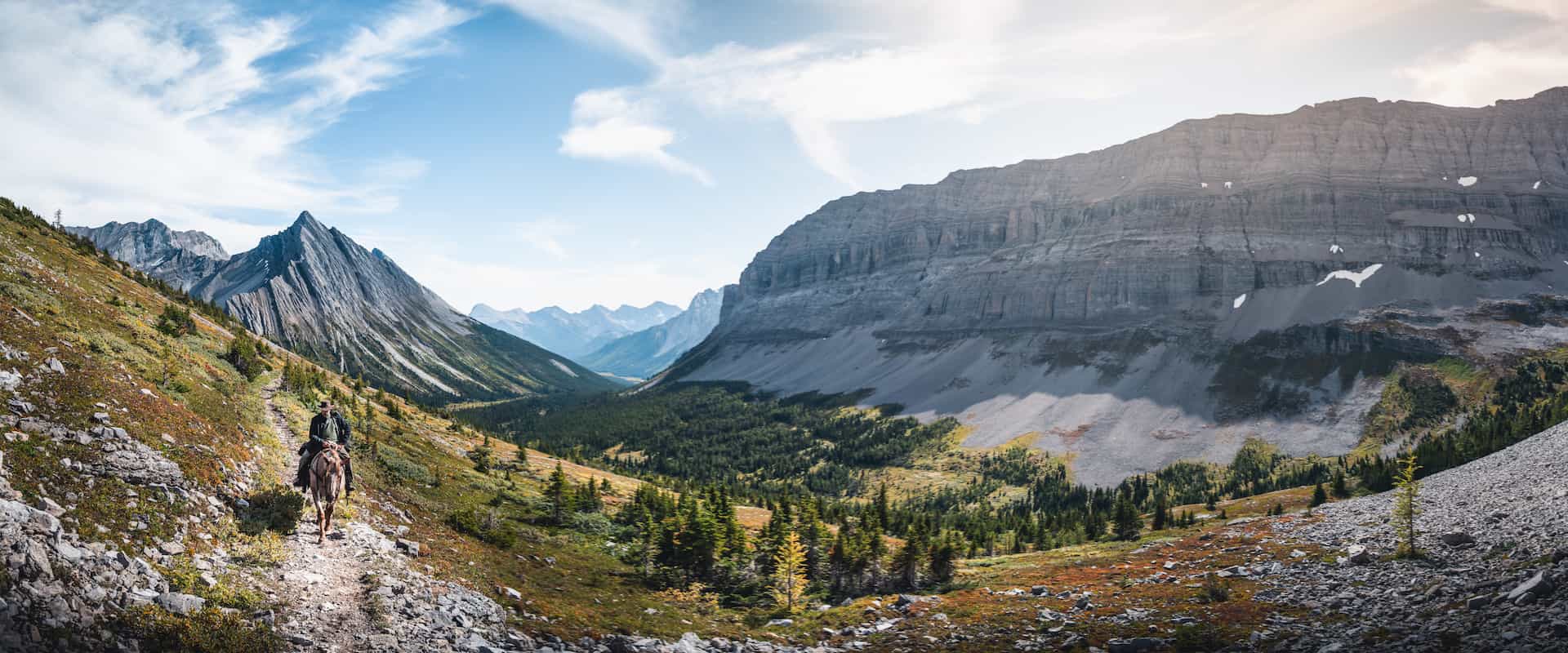 Most visitors to Banff will check out the accessible natural areas, such as popular walking trails and views from the main lookout points.
Of course, these places are all worth experiencing, but they are just the edges of the wilderness. When you go on a multi-day horseback riding tour, you will be able to ride for hours deep into the Banff backcountry.
You'll go far beyond the realm of streetlights, highway noise and cellphone reception, into the deep pine forests. You'll ride alongside rushing streams and clam, still lakes that reflect the craggy peaks towering all around you.
The only sounds will be the call of the birds and the wind in the trees.  And there will be no artificial lights to blind you from the dazzling sea of stars in the night sky.
Bottom line: a lodge-to-lodge horseback riding vacation gives you a chance to see some of the vast, unspoiled natural beauty of Canada that is still untouched by civilization.
Be Deep in the Wilderness, But Sleep in Comfort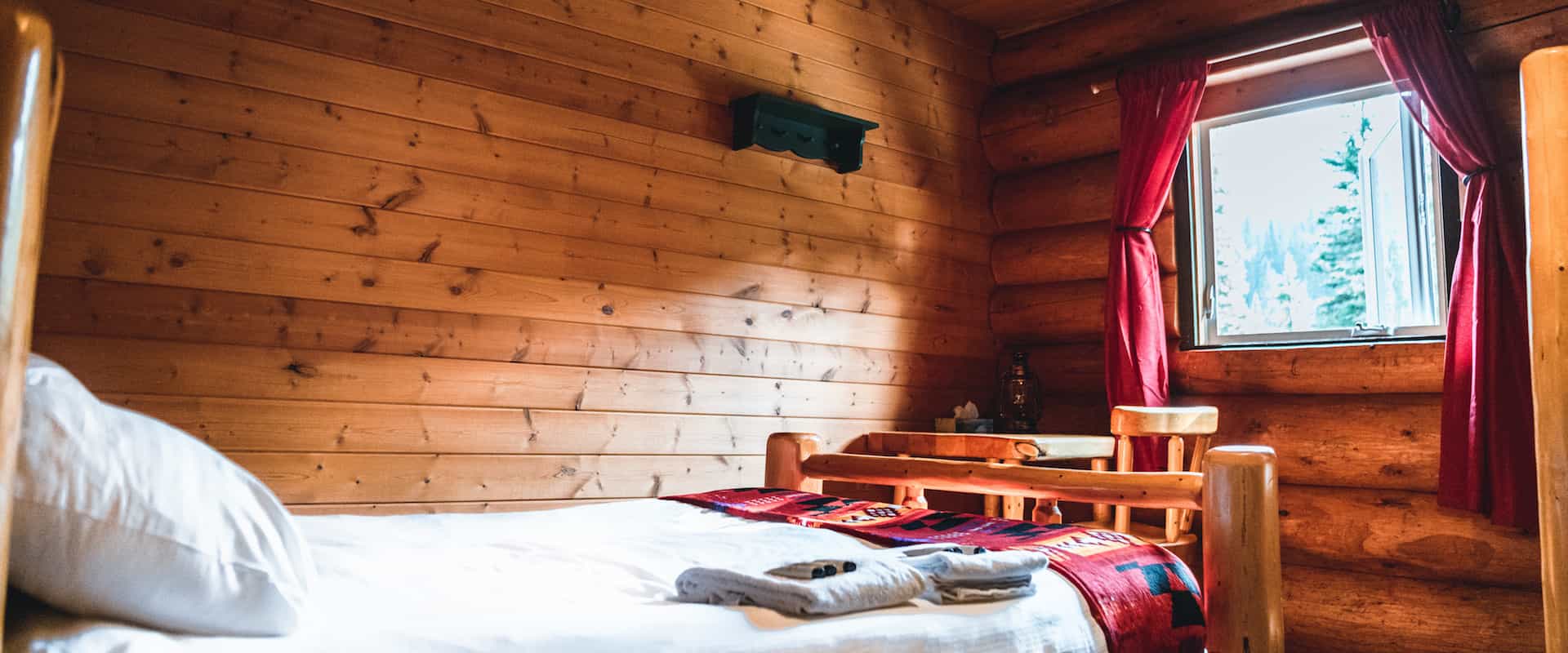 It's not often that you get to be this close to nature, without having to sleep in a tent on the ground.
Instead, you will be staying in a cozy backcountry lodge. Enjoy the great outdoors all day long and then curl up in a real bed with warm blankets after enjoying a freshly prepared meal. This makes a lodge-to-lodge vacation ideal for those who want to see the remote natural wonders of Banff without "roughing it."
You'll Have More Time to Get to Know Your Horse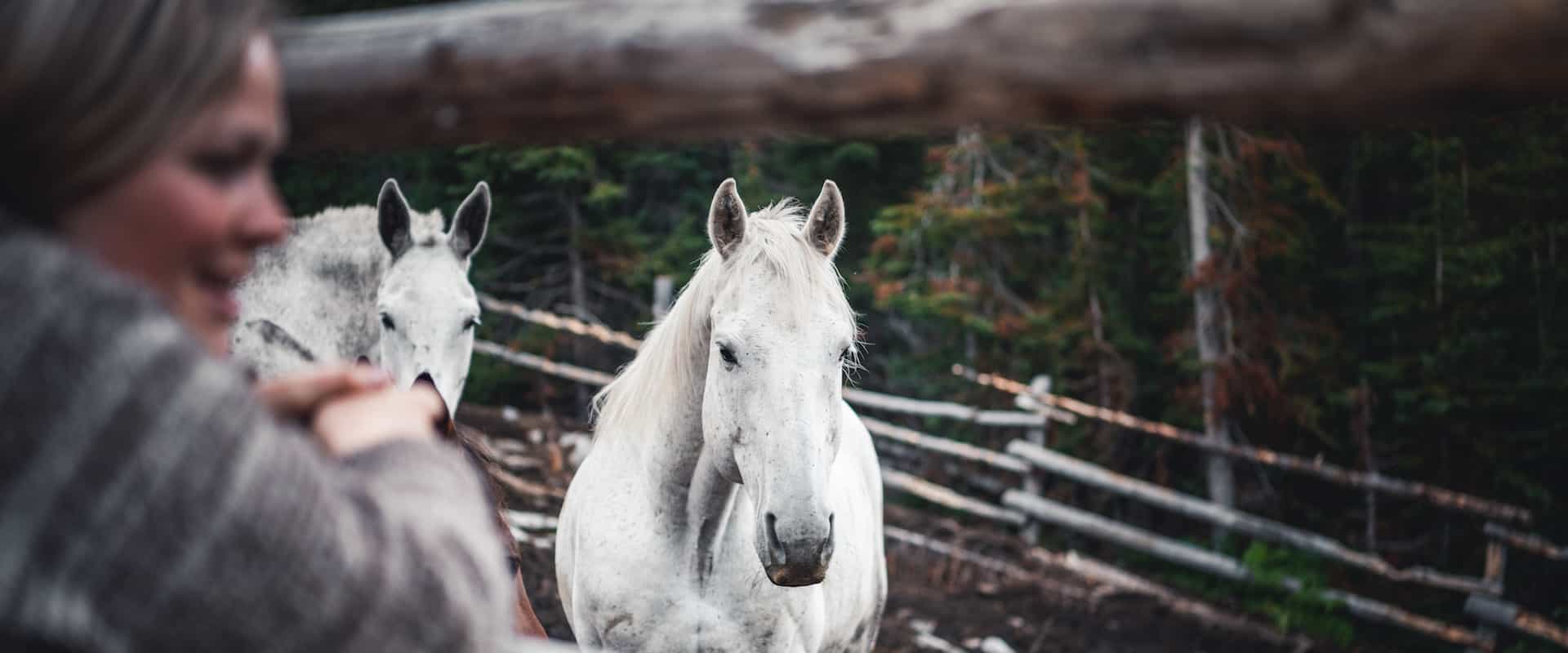 One of the best parts of a multi-day lodge-to-lodge horseback riding trip is that the extra time you spend riding allows you to make a deeper connection with your horse. The bond between horse and rider is one of the most rewarding parts of a horseback riding trip.
When you spend a couple of days with your steed, you will start to get to know its personality and understand its unique quirks. With 300 horses the staff usually have a knack for matching horses and riders, so you will be paired with an animal that suits your experience level and riding style.
You'll start to feel comfortable in the saddle and you may even achieve a symbiotic connection, a mutual understanding where the horse follows your commands and you become familiar with its rhythms and personality. Once this bond is forged, it will be hard to say goodbye to your four-legged companion when the trip comes to an end.
Your Guides Know The Backcountry Well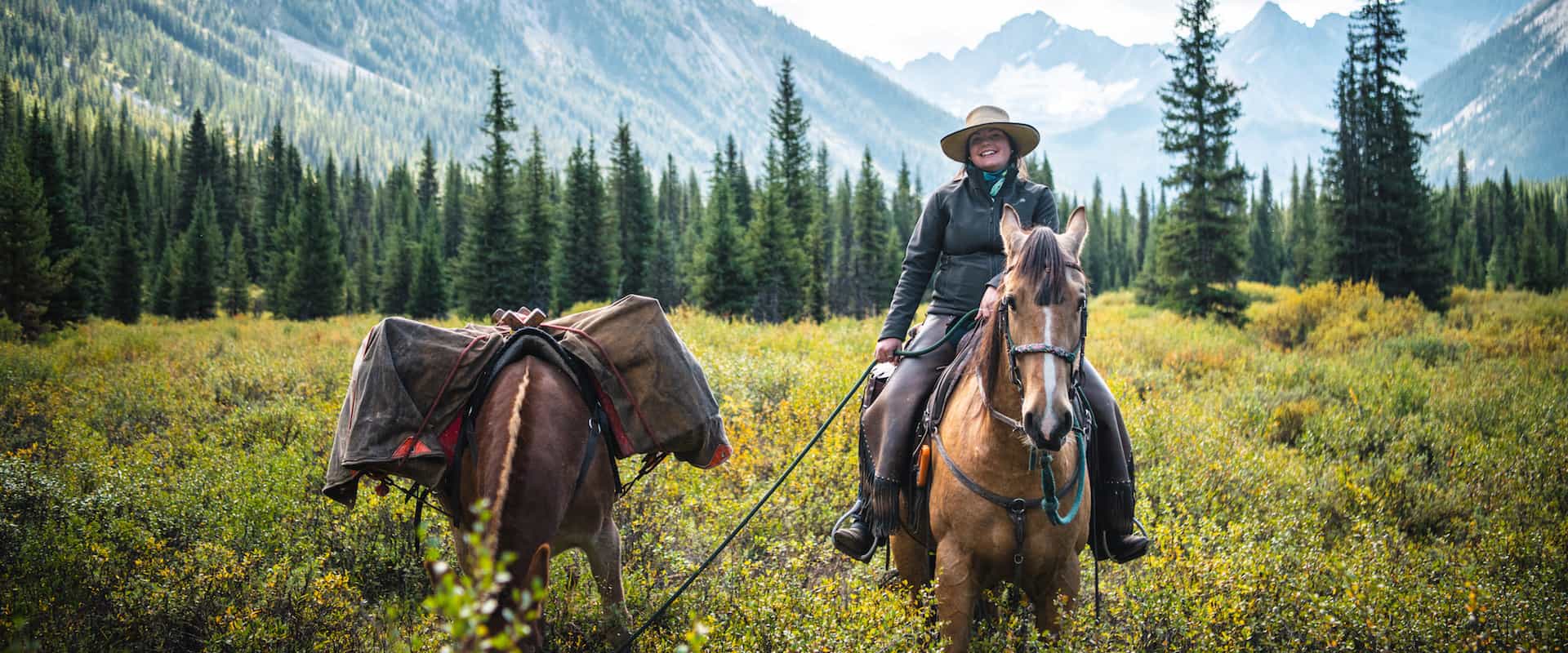 There's nothing quite like exploring a place with a knowledgeable local. Your horseback riding guide knows the backcountry of Banff like the back of their hand and they will be able to lead you through it with ease.
This is much more enjoyable and relaxing than exploring on your own, as it means that you don't have to worry about planning your route or getting lost. Also, you will gain much more of an appreciation for the wilderness around you, as your guide will be able to tell you about the local flora and fauna and the history of the area.
If you have a question, ("What flowers are these?" "Are elk often spotted in this area?" "When was this lodge built?") your guide will be able to answer it for you. Having that source of knowledge makes the trip richer and helps you to understand your situation much more.
These are just a few of the aspects that make a lodge-to-lodge horseback riding trip special. To find out more or to book your adventure in the saddle, contact us folks at Banff Trail Riders.
Like this article? Pin it! or share these tips for horseback riding in Banff National Park, with other travellers.