Introducing the Erling Strom Lodge Trip:
Banff Trail Riders dates back almost as long as Erling Strom's early days of exploring the Banff backcountry… well, almost.
Erling Strom was a prominent man in the Bow Valley, operating the (then) Canadian Pacific Railway's Mount Assiniboine Lodge until 1975. Banff Trail Riders was founded in 1962 so both definitely have crossover, although Erling Strom was certainly exploring the area on his skis long before in the early 1900's.
Connection with Erling Strom
The connection with Erling Strom at Banff Trail Riders meet with curiosity and convenience. Both curious about what was out there to explore and show guests, and both keen to provide convenience for guests on trips. Halfway Lodge was constructed by Erling Strom in the 1920's as a stopover spot for guests he led trips with en route from Banff to Mount Assiniboine. Now cared for by Banff Trail Riders, the lodge still serves as a means for accommodation and rest in a comfortable, remote, and peaceful environment for our Banff horseback riding vacations.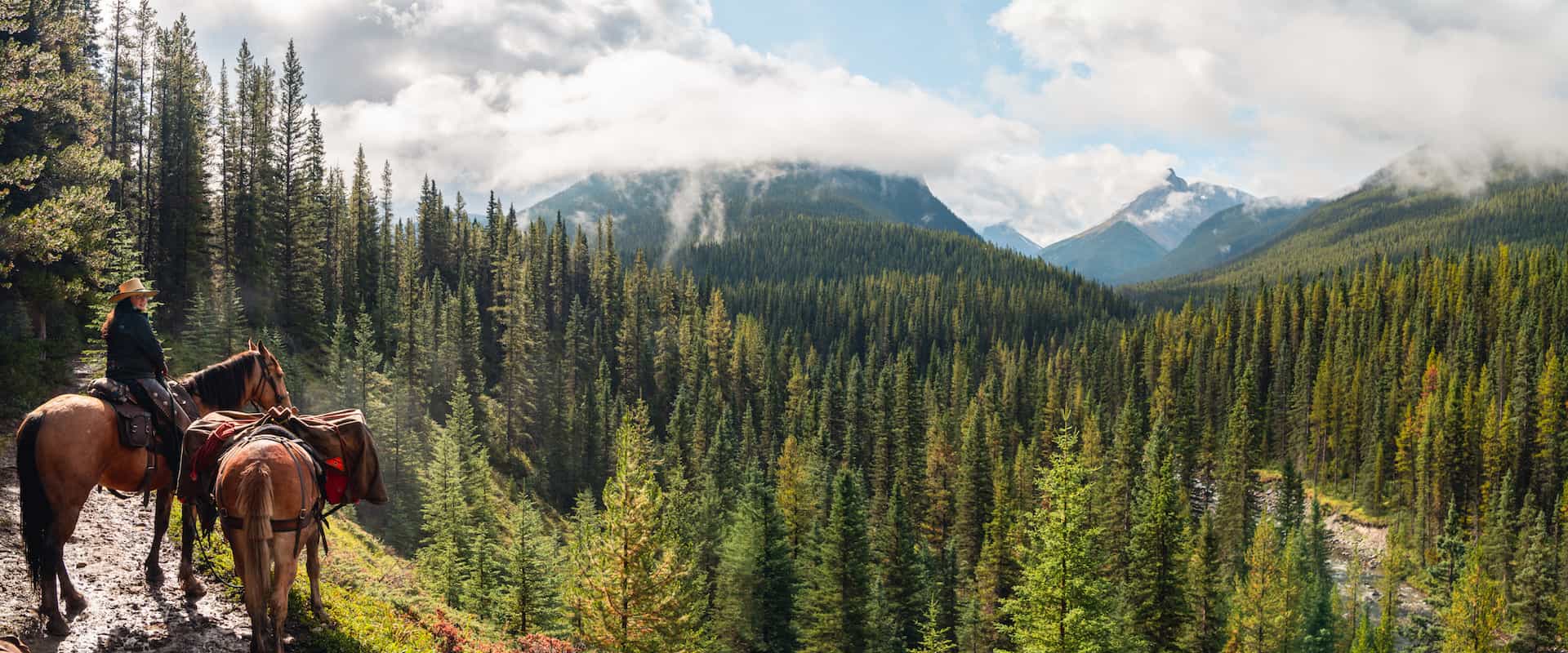 Ride to Sundance Lodge
Starting the trip at Warner Horseback Riding Stables in Banff, you'll meet your guide with a hat and guide with four legs. Both will become like family for you on the trip, both will show you the best of what is in Banff's backyard, and both the cowboy cowgirl guide and horse create Banff's best backcountry lodge experience. Are you keen to follow in Erling Strom's footsteps (or at least his horses)? Read more about the Erling Strom Trail Horseback Riding Trip.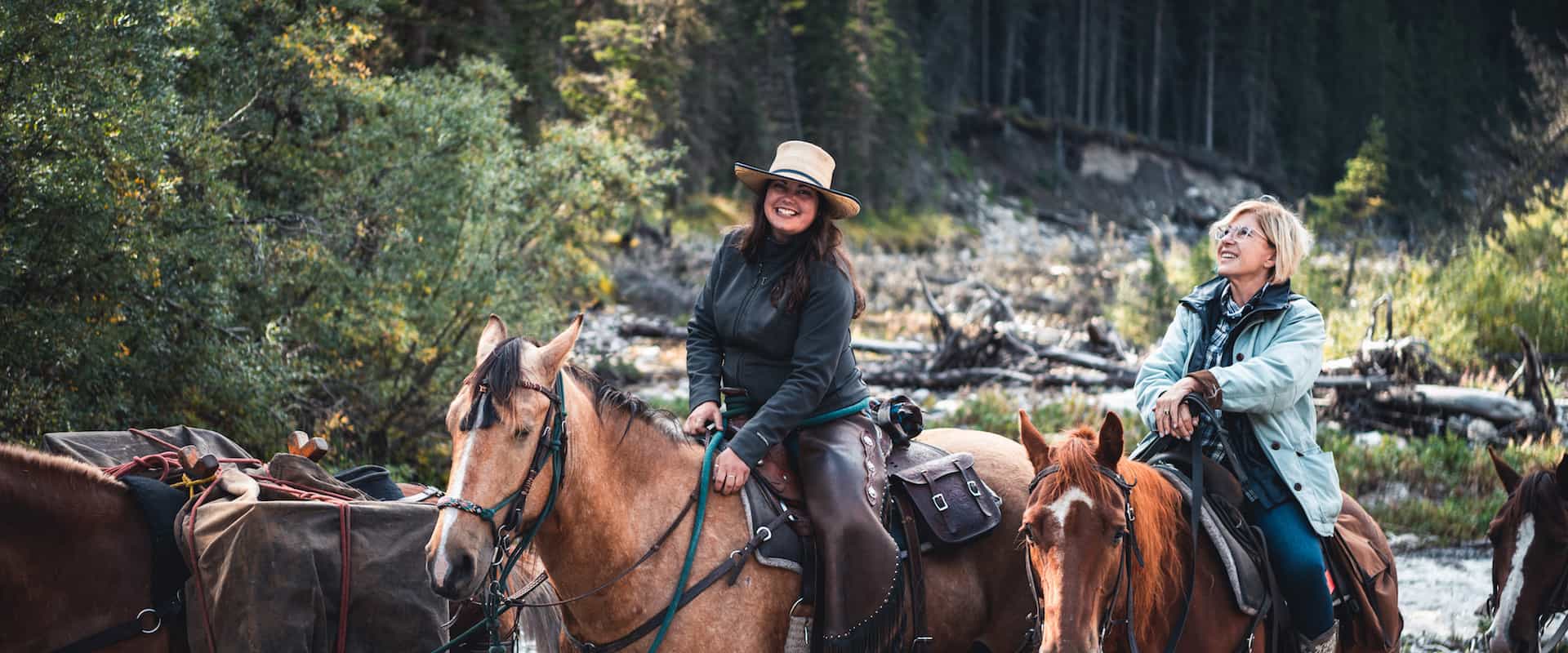 Fresh mountain air, pine trees, wildlife, flowing rivers and creeks, and a gourmet hot lunch beside the water all accompany the journey to the first stop – Sundance Lodge. This is luxury in the backcountry – no sleeping bags, hot dogs, or outhouses here – just delicious meals by the chef, warm showers, and Egyptian cotton sheets in private bedrooms. Sundance Lodge spoils you, but that's okay – you're on holidays.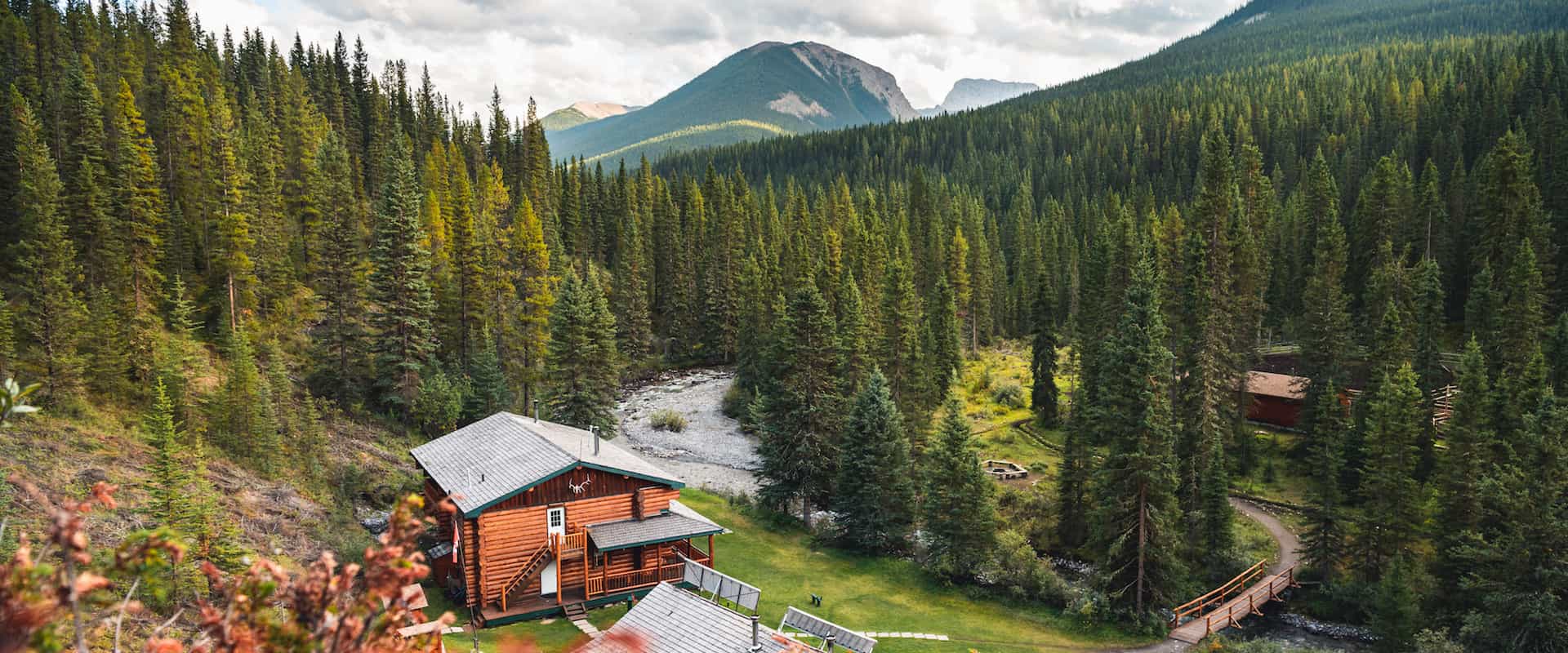 Day 1 rides to Banff's closest backcountry lodge, and is a great introduction to what lies beyond town, in Sundance Canyon. This ride is nine miles and takes about 6 hours after departing Warner Stables at approximately 9:30 am. Fresh baking, friendly lodge staff, and cold beer will be waiting upon arrival. Relax and enjoy a glass of wine by the fire after a delicious dinner and dessert.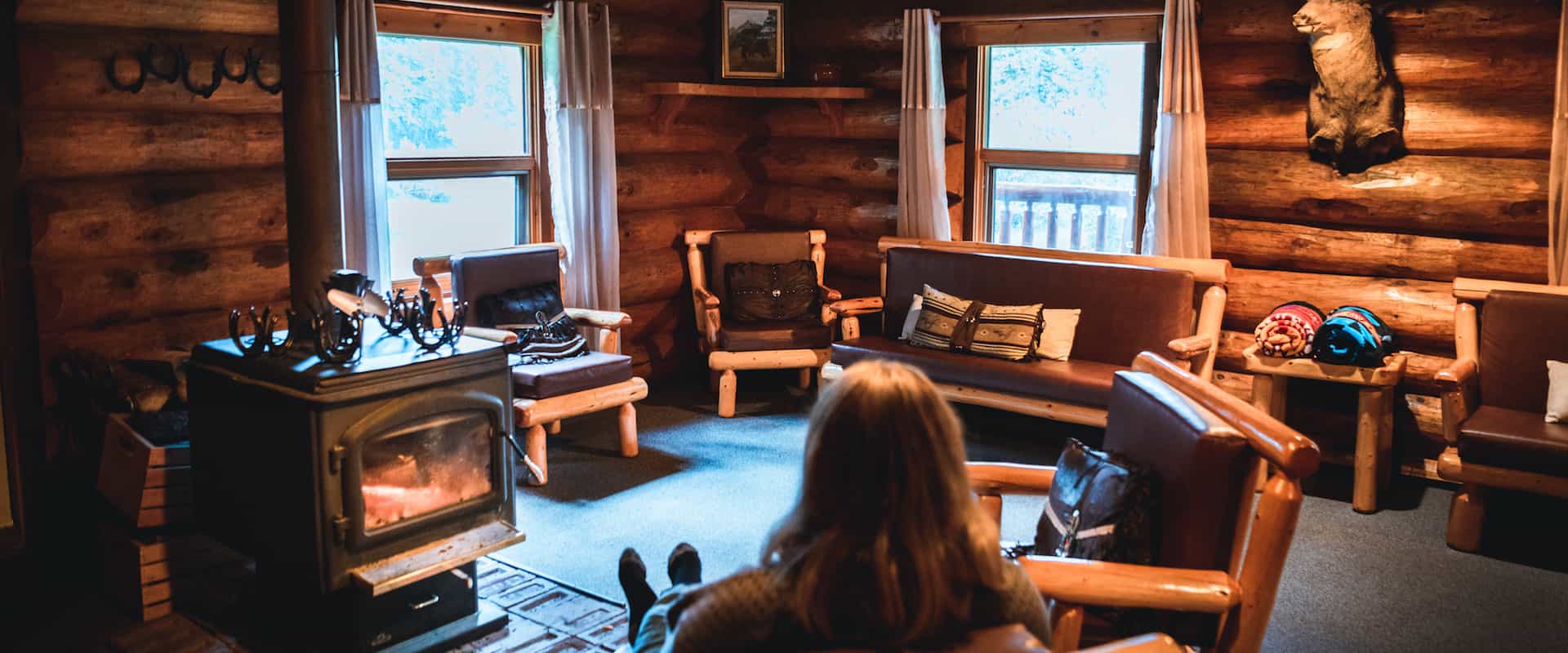 BANFF's NEW BACKCOUNTRY LODGE TRIP
Ride through Alberta's Wild West, tracing the paths that the early pioneers used while exploring these untamed forests. On this trip you will follow the Erling Strom Trail, a path forged through the dense Banff forests by renowned explorer Erling Strom in the early 1900s. Amidst dense fragrant pines
Continue to Halfway Lodge
Day 2 sees us hopping back on our noble steeds and on the trail for 5-6 hours over 9 miles or so. We're on our way to the historic Halfway Lodge which is now a two-story lodge thanks to a surprise entry from a bear through the original roof! You'll be following the footsteps of early explorers as we ride the Erling Strom Trail to a lodge built by the man himself in the 1920's. Lit by propane lanterns and candles, this dramatic and elevated lodge serves up fine backcountry cuisine with this gorgeous retreat in a rustic, yet comfy Rocky Mountain setting.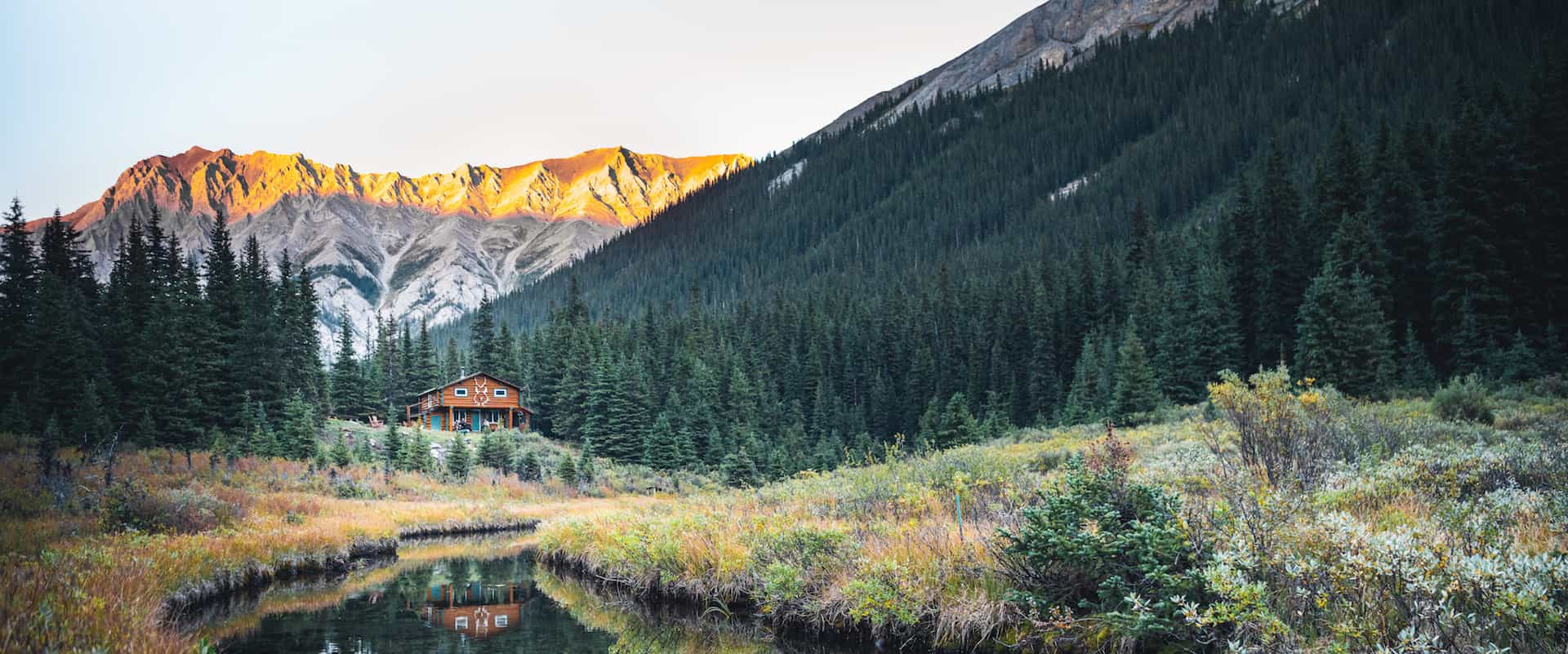 Return along Brewster Creek
You're not going to want to leave the peaceful haven of Halfway Lodge, but on Day 3 we meander along the Brewster Creek, and make our way back to Sundance Lodge for another night and professionally prepared cuisine. Reflect on the unique experience of Halfway Lodge over a glass of wine after a hot shower.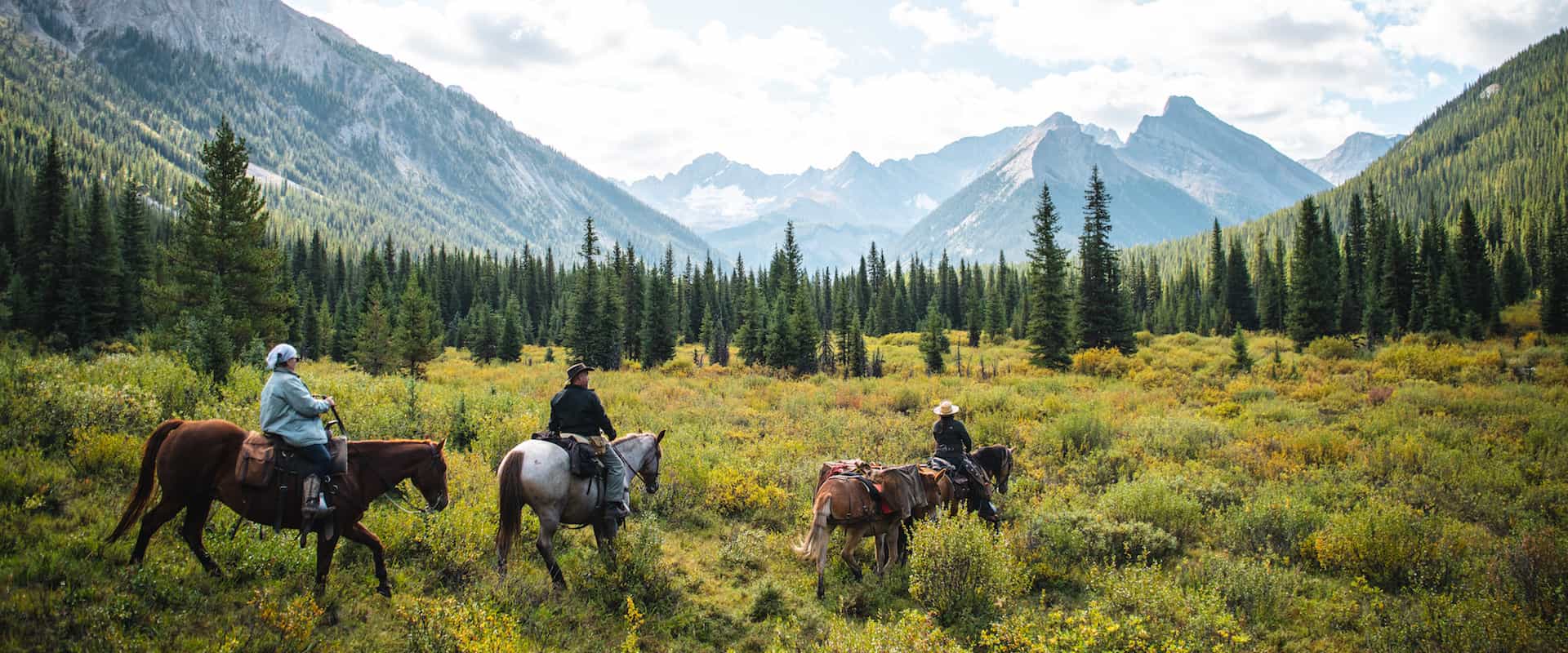 On our last day, we depart the place that now feels like home due to the warm hospitality of your hosts. Wake up one last time in warm down duvets, gather around for a delicious breakfast, and wave goodbye as we begin our ride back to Banff. Day 4 treats us with a sandwich, baking, and snacks for lunch beside the river as we descend back down into the Bow Valley along the river, making our way to Warner Stables.
Banff Trail Riders' Erling Strom Trail Lodge Trip is one of the best ways to accessibly, conveniently, and luxuriously experience Banff's backcountry. Saddle up, step out, and be our guest on this unique experience found nowhere else in Banff National Park.
Like this article? Pin it! or share these tips for horseback riding in Banff National Park, with other travellers.