Banff's backcountry is the best place to try horseback riding:
Let's face it, riding a horse for the first time can be pretty intimidating.
After all, these hooved beasts are absolutely enormous!  And if you don't know how to control the horse and have never been in a saddle before, it can feel a bit scary at first.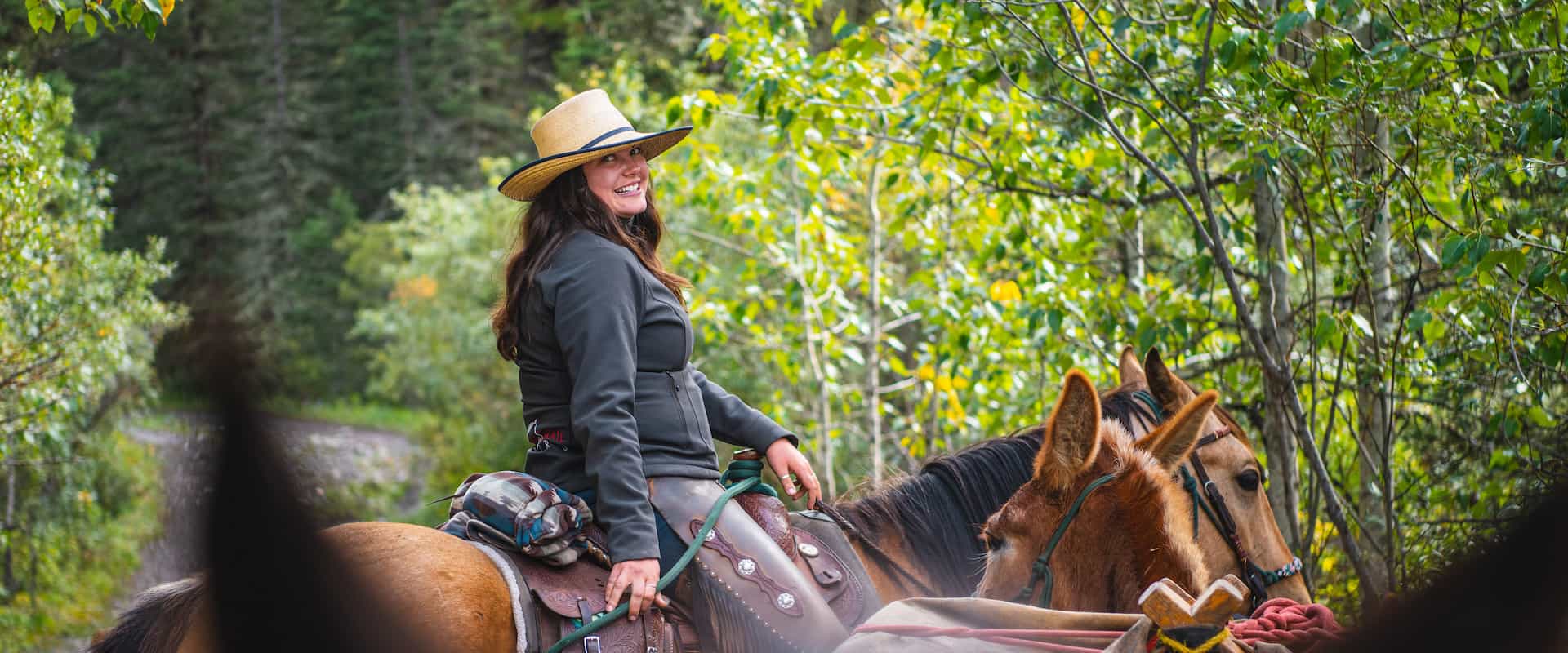 But here's the thing: if you have someone helping you out, riding a horse is surprisingly easy.  For example, when you go on a backcountry trip with Banff Trail Riders, you'll be eased into the saddle by experienced guides who'll teach you everything you need to know.
It usually doesn't take long for even the most greenhorn rider to start to feel comfortable while perched upon their steed. But maybe you need a little extra reassurance.
So to ease any jitters you may have, we've put together this list of 5 reasons why the Banff backcountry is one of the best places to give horseback riding a try.
1) The Trails Are Relatively Easy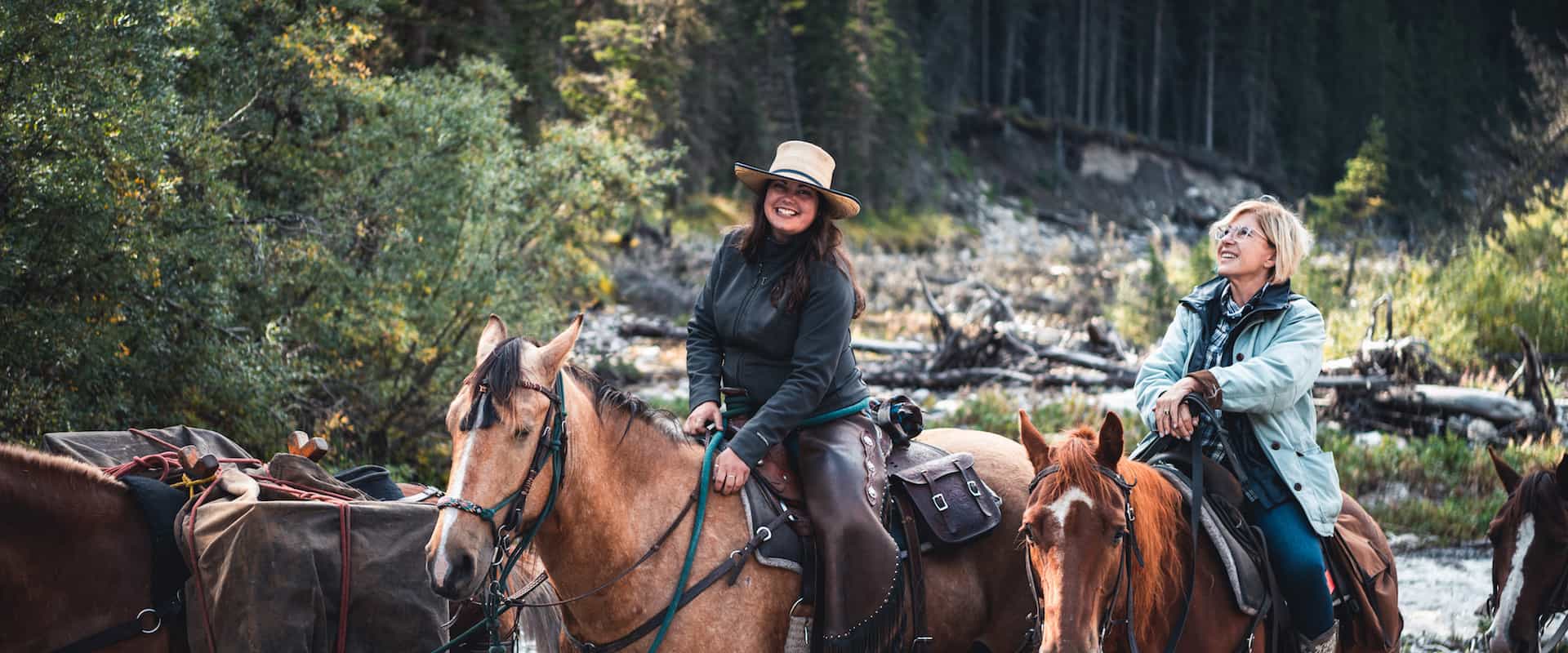 Start simple with a one or two day backcountry trip.  On these trails there are no crazy or challenging trails, so you don't have to worry about navigating a steep mountain face or maneuvering around a thin switchback with a steep drop below. The trails are all straightforward.
Another thing to keep in mind is that your horse has been down this trail before. He or she knows the route and will simply travel down it in a relaxed manner.
"One thing that first-time riders are amazed at is the freedom – our horses know the trails and put novice riders at ease with their steady mannerisms," explains Amanda Markey with Banff Trail Riders.
"First time riders really get to relax and enjoy the scenery – no need to watch the footing as hikers do!"
2) The Ride Is Short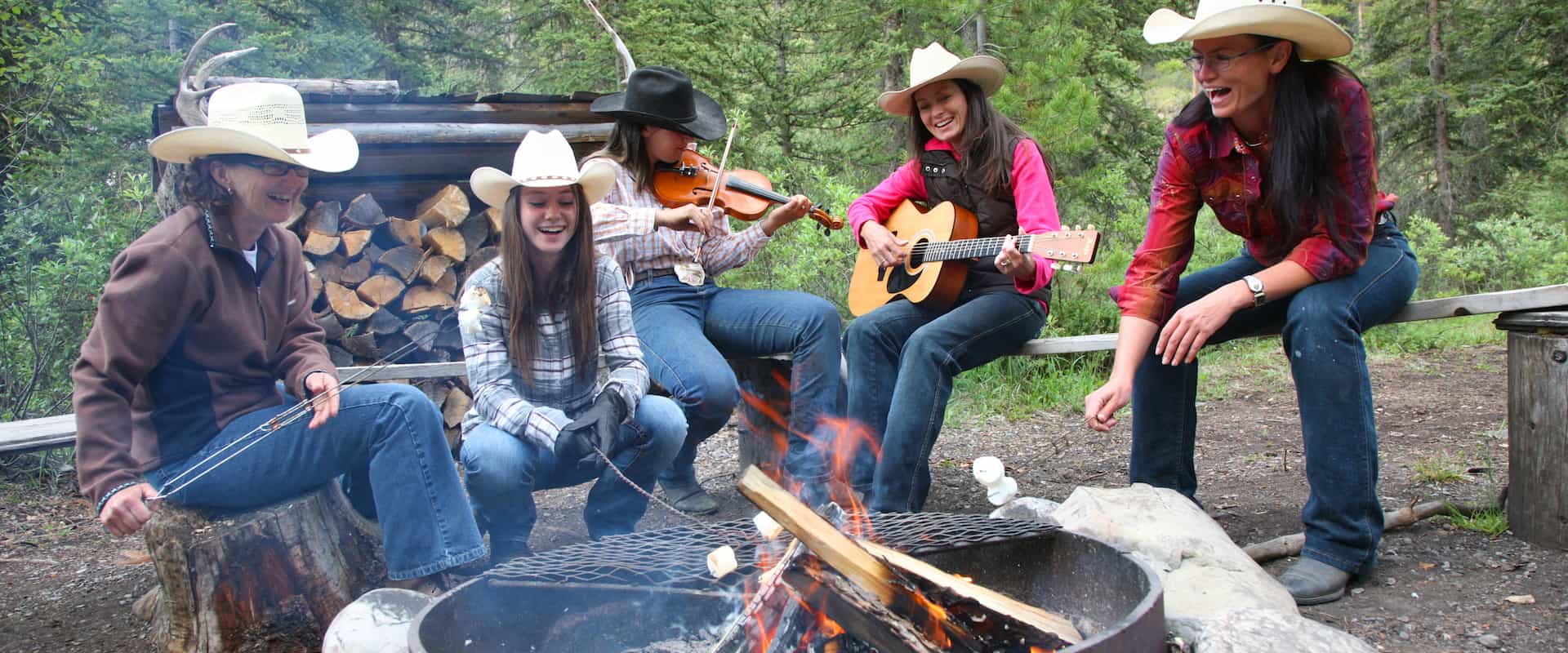 Although it might not seem like it, horseback riding is quite a workout. Sitting in a saddle takes more effort than sitting in a car — you have to use your core muscles constantly to keep your balance and you also have to be alert and giving directions to your horse.
For beginner riders who aren't used to long trips, horseback riding can be tiring – so shorter journeys in the Banff area are perfect.
"On our backcountry trips, we take lots of breaks to allow riders to relax and stretch their legs" says Amanda.
By the time most riders finish a day on the trail, they are exhausted and have worked up an appetite for a hearty backcountry camping meal.
3) There Is No Galloping
Many people who are nervous about horseback riding have a fear that once they get onto the horse, it will start galloping at full speed and they will be hanging on for dear life while bouncing around in the saddle. But this is not the case!
The horses used by Banff Trail Riders are well-trained, used to beginners and won't break into a full gallop unless the rider instructs them to. On these backcountry trips, you'll be moving at a comfortable and steady pace; not racing down the trails.
Once you get the hang of keeping yourself steady in the saddle, you will be able to sit back and watch the stunning Banff scenery go by (or watch for wildlife).
4) Experienced Staff Provide Guidance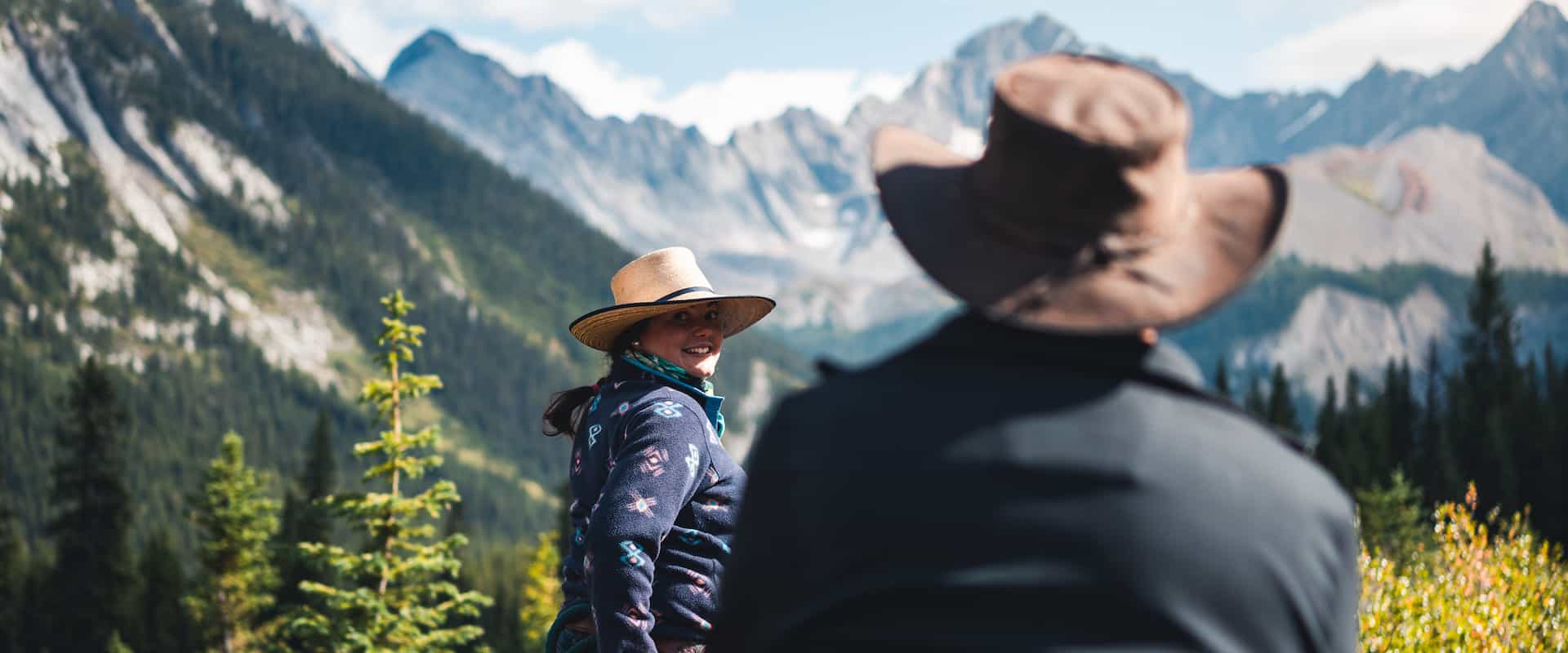 "Every guest who rides with us is given riding instructions on what to do while out on the trail," explains Amanda.  "Each guest is told everything they need to know for their chosen journey."
Even if you have never been near a horse before, you'll be in good hands. The guides are experts on the backcountry and are also veteran horseback riders. And much like the horses, they've also worked with greenhorns before — that means they can really make you feel at ease.
5) The Horses Are Mellow
You certainly won't be riding any wild stallions or race horses; instead, a very well-trained, intelligent animal will carry you through the wilderness. After all, trail rides are their job and they have worked with apprehensive first-time riders before.
If you let your guide know that this is your first time and you are a little nervous, they will pair you with a calm and well-behaved horse who will be easy to manage. Approach your horse from the front (not from behind), talk to it in a quiet voice and give it a few strokes on the head or neck – you'll become best friends with this beautiful and gentle creature before you know it.
Why Not Give It A Try?
If you are curious about taking a backcountry trip, why not make this the year you check it off your bucket list? There really is no better way to experience the remote and beautiful Banff backcountry.
Travelling by horseback allows you to go further into the mountains and forests and see quiet and tranquil natural areas that you wouldn't be able to reach in any other way. You'll relax and become comfortable with your horse and then become spellbound by the pristine alpine landscape unfolding around you as you travel through mountain meadows, pine forests and rocky passes.
The banter and camaraderie of your guides and the rest of the group will make the hours on the trail pass quickly. At the end of the day you can gather around the fire, feast on a hearty meal and share laughter and song as the stars twinkle above. When you've made such great memories on a backcountry trip, you'll forever be itching to get back in the saddle again and again.
Like this article? Pin it! or share these tips for horseback riding in Banff National Park, with other travellers.