If you've never been on horseback before, you can feel a bit out of your element when you get up on the saddle for the first time.
Suddenly you are high above the ground, astride a leather seat perched on a living, breathing animal. You're not too sure how to control it – or whether it would even listen to you if you tried.
But just keep calm and don't panic. Once you relax into the saddle and learn the basic commands, riding a horse will start to feel natural – and then you will be ready for an epic Banff backcountry adventure.
Here are a few important things to know before you go horseback riding.
1. You Don't Have to Be An Expert Rider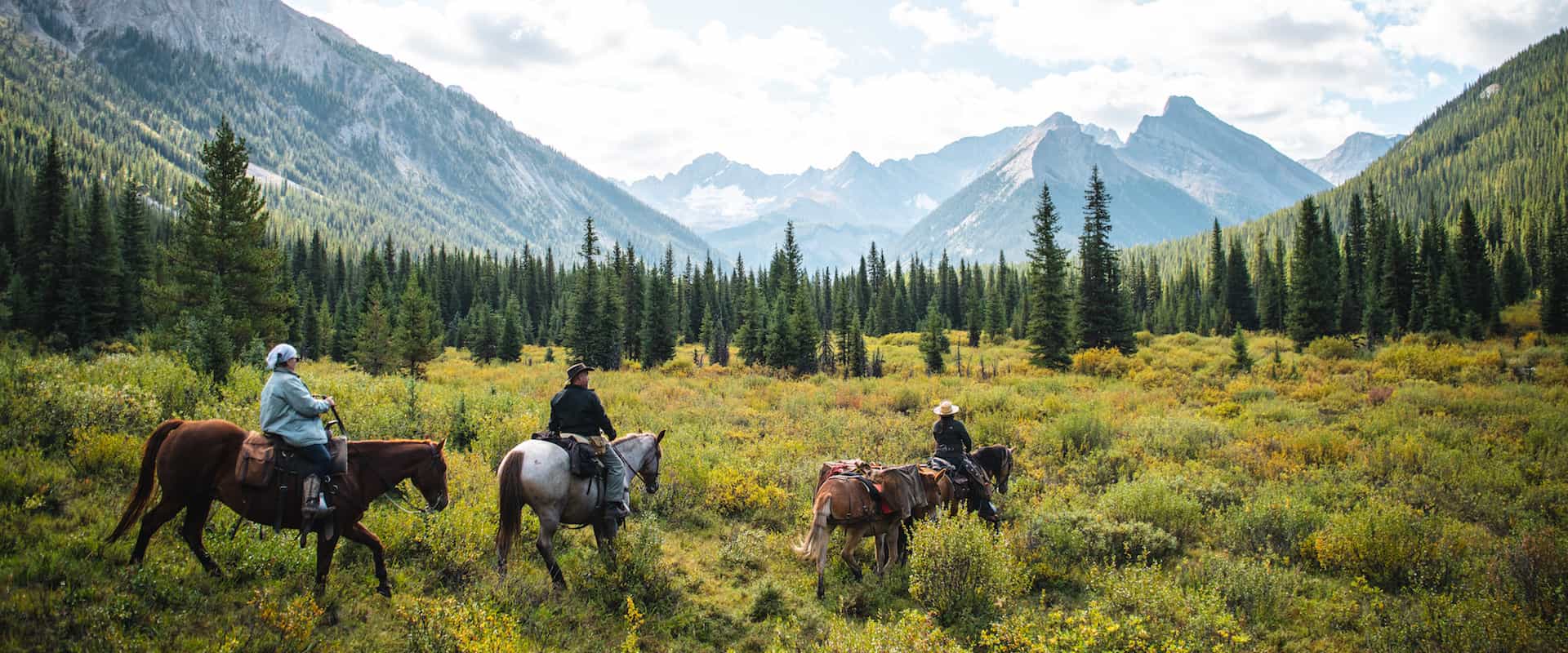 Many people think that they must have lots of horseback riding experience to go on a multi-day backcountry trip – but it's not necessary.

"With our trip, people get scared [because] it's horseback riding. But you don't need any experience to ride the horses." says Jonathan Welsh, Operating Partner at Banff Trail Riders, in an interview with Banff and Lake Louise Tourism.
"The fact is, it's a walking trail; the horses are used as a mode of transportation to get you to great locations."
So if you haven't ridden on horseback before, don't let that stop you from going on a trip.
Horseback riding can be intimidating at first, but it won't take long until you start feeling comfortable in the saddle.

At Banff Trail Riders, they pair first-time riders with calm, well-trained horses who will respond well to their  commands. They're also given plenty of pointers and coaching.

"You don't need to be an active horseman to come on this trip," says Jonathan. "You just need to have a spirit of adventure and a willingness to try something different and you'll have an amazing time."
2. Riding A Horse Is Quite A Workout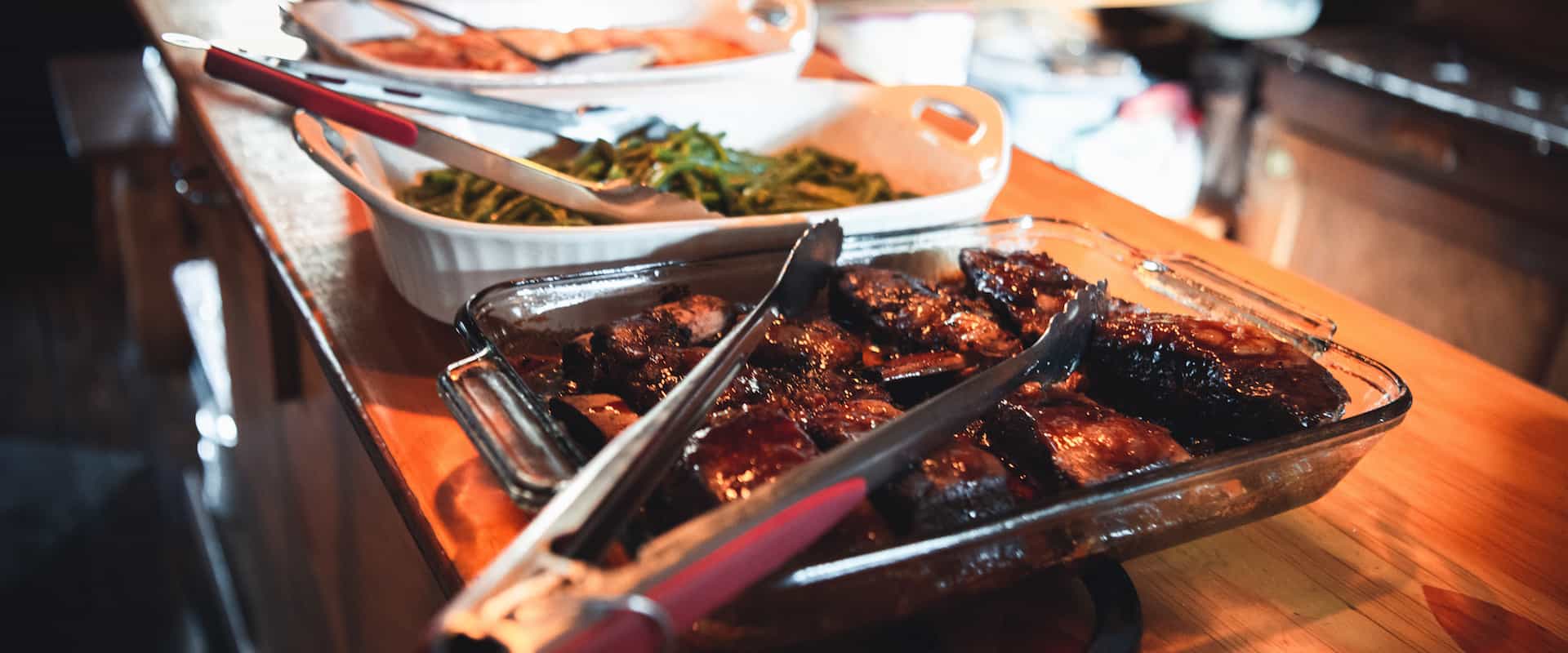 "Horseback riding is a physical activity… it's not like sitting on a couch!" says Amanda Markey, Office Manager at Banff Trail Riders.
When you are riding a horse you are actively involved in giving the horse instructions and signalling where to go. (Don't worry if you have never done this before: you will learn it all before you begin your ride.)
Just maintaining the correct position on a horse requires a bit of strength. Sitting up tall on the saddle works the back, legs and abdominals and squeezing the horse to change gaits works your inner thighs. You'll be constantly making slight adjustments to your balance as the horse moves.
Although you are sitting down, you'll still be tired after a full day of riding. It's a good thing that the lodges and camps have delicious and hearty meals prepared, as you will have worked up an appetite.
3. Keep In Mind: Horses Are Prey Animals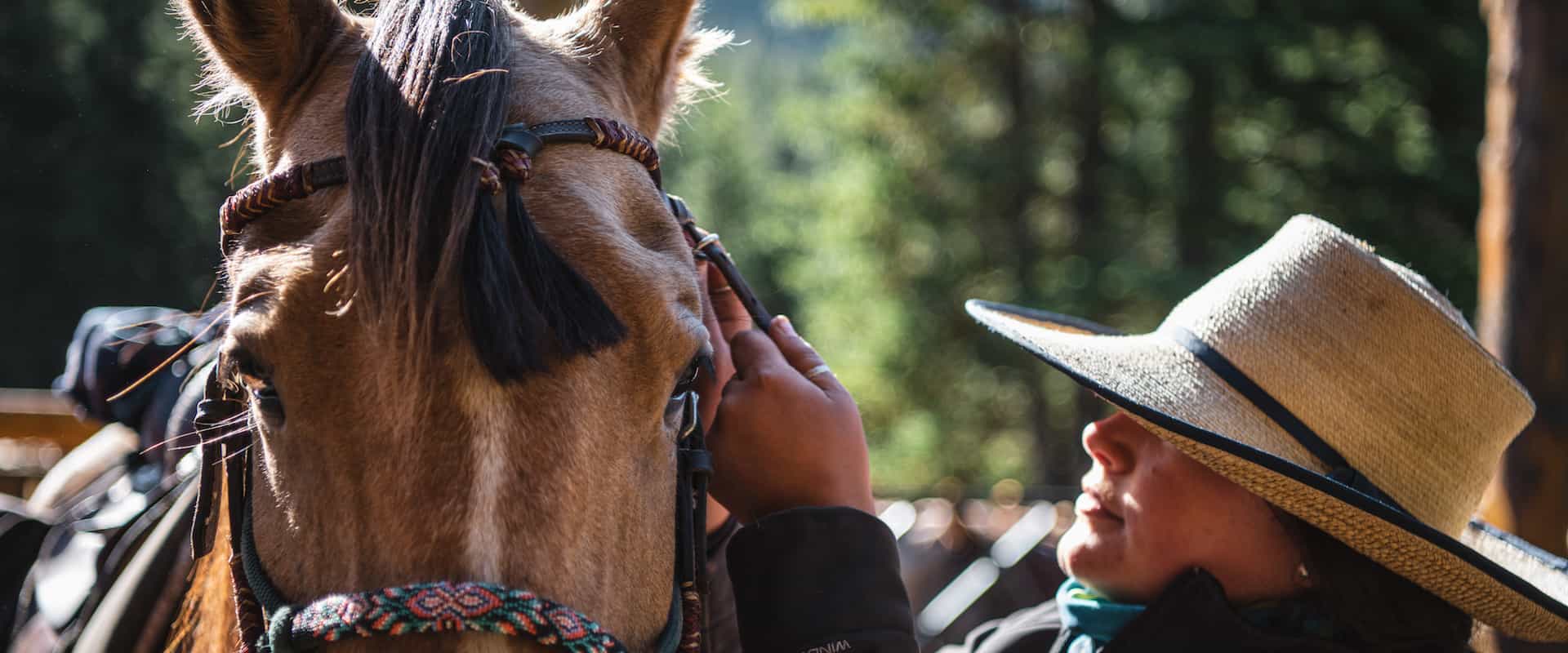 Because they are so much larger than us, it's sometimes easy to forget that horses are by nature prey animals. Even though they can be very well trained, it is still in their instinctual programming to run as soon as they sense danger.
Therefore, it is important to approach your horse confidently and calmly from the front, rather than coming up behind it. Speak in a quiet and even tone and avoid sudden movements and noises. This is also why it is not recommended to wear rain ponchos while on a trail ride in Banff, as they can flap in the wind and spook the horses.
4. Always Be Gentle With The Reins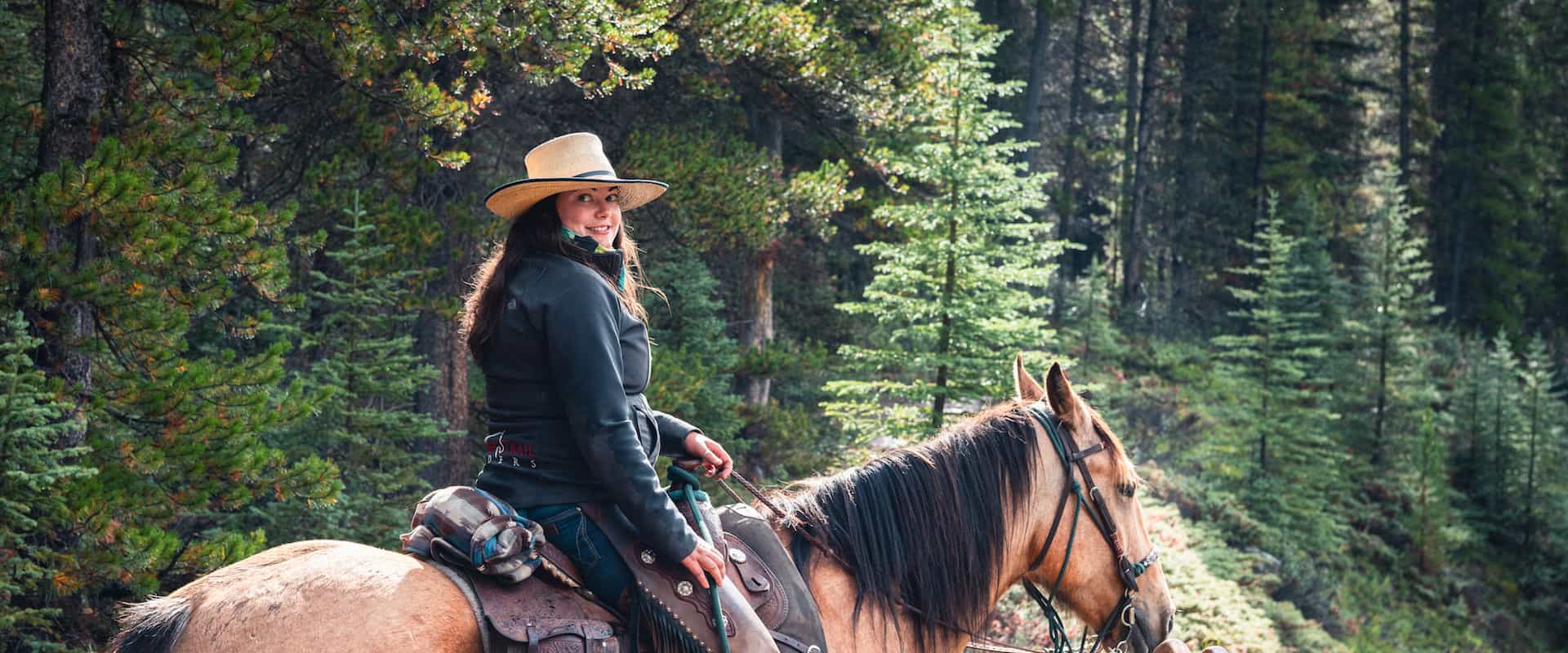 Imagine if someone had a leather strap attached to your mouth and was jerking your head back and forth – uncomfortable, right? The reins are connected to a metal bit within the horse's mouth, so always be gentle with them.
You can hold the reins with one hand, with your thumb on top, and then make gentle but firm movements to control them. Your arms should be making right angles at the elbow and your forearms should be following the line of the rein. If you need to steer left, for example, you would move the left rein over in a smooth and fluid motion like opening a door. To move right, do the mirror-image motion with your other hand.
You can stop the horse with a combination of your verbal cues, rein movement and body positioning. Call out "whoa" as you pull backwards on the reins and push your seat deeper into the saddle while pushing your heels down. If you start to feel overwhelmed or can't remember the commands, just ask your trail riding guide – they will be happy to help.
5. Your Horse Has A Personality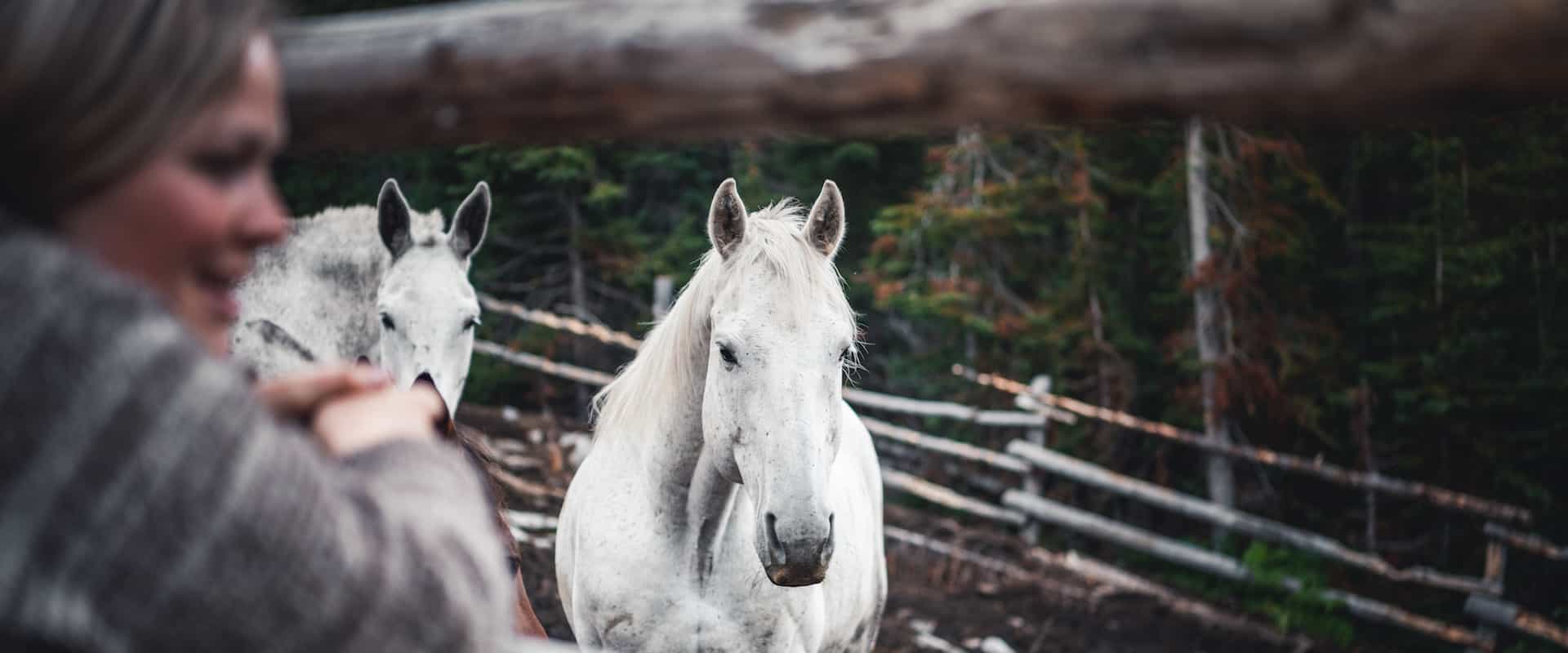 It's important to remember that each horse is a living creature, with its own independent personality. This might seem obvious, but it can sometimes be easy to forget this and see the horse as just a mode of transport. However, some horses are very well-mannered while others can take a bit of warming up before they are receptive to commands.
The best approach is to be calm and patient with your horse. These animals are intelligent, but they can sometimes also be a little shy until they feel comfortable with you. You can always ask your guide about the personalities of the horses – they will know what the horses are like and can tell you what sort of behaviours to expect.
One of the loveliest aspects of horseback riding is the connection you make with the beautiful and powerful creature you are riding through the wilderness.
When you and the horse are equally calm and content, and you are surrounded by the pristine beauty of the Canadian Rocky Mountains, those are the perfect backcountry moments that you won't forget.
Like this article? Pin it! or share these tips for horseback riding in Banff National Park, with other travellers.