Which river crossing horseback ride will you choose?
By far and large, some of our best horseback rides in Banff are the ones that cross the cool, glacial and spring-fed rivers that flow through the Bow Valley.
Accessible, historical, and tranquil, these rides are sure to impress. Starting at our Banff Springs Corrals near the Fairmont Banff Springs Hotel, Banff Trail Riders offers two river crossing rides that take guests through one of the most beautiful parts of Banff National Park.
These rides are unique in their own right, with a river crossing as it has been done for centuries. A horseback ride in Banff with flowing waters passing under your feet, around your horse's hooves, and probably into your horse's mouth, seizes a moment of multiple natural elements coming together in the Canadian Rockies that is truly unforgettable.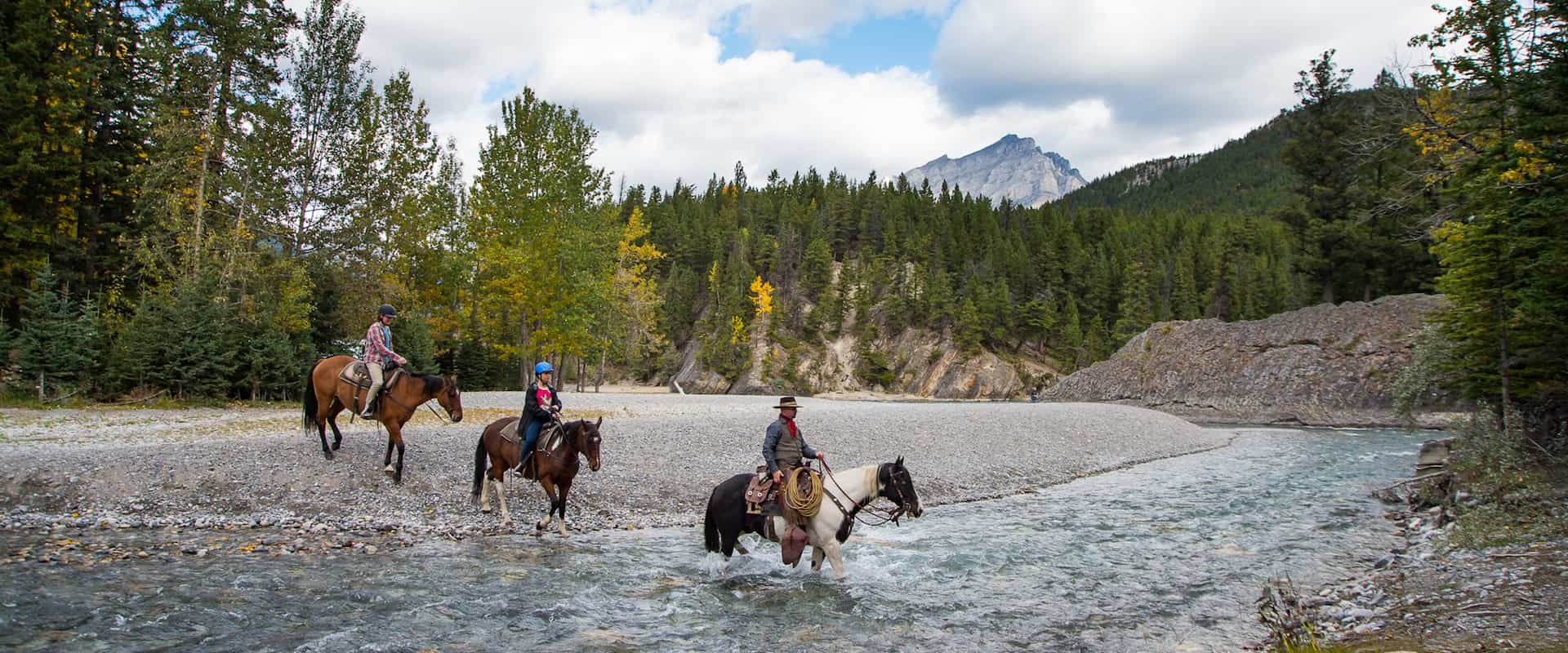 1 Hour Spray River Ride
Perfect for those short on time, the 1 hour Spray River, Banff Horseback Ride gives guests the unique experience of crossing the Spray River, while also viewing the jaw-dropping force of the Bow River as it cascades over Bow Falls. While river crossings may not have been anything unique to the pioneers that settled the Bow Valley, for us, it's certainly a treat. Take a photo and take it in – this Rocky Mountain experience is one to treasure.
On a hot summer day, expect to stop in the river a little bit longer as your horse splashes water onto its belly, gets a drink, and allows you, the rider, the opportunity to enjoy this view for just a bit longer with the company of your horse.
Perhaps a 1 hour ride is just what you need to fulfill your Rocky Mountain horseback experience, and that's okay! Our one hour Spray River Banff horseback riding trail ride takes you along the Fairmont Banff Springs' golf course while giving guests an unforgettable perspective of the 'Castle in the Rockies'.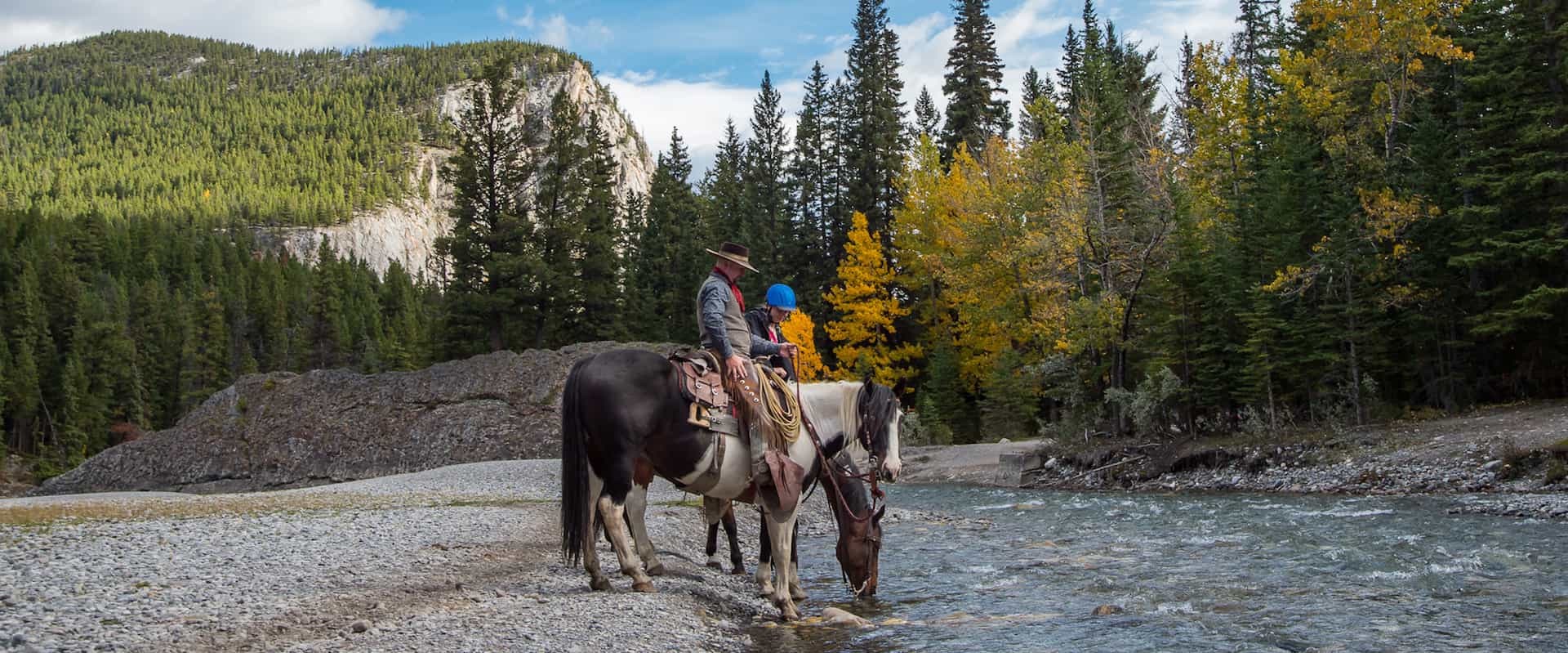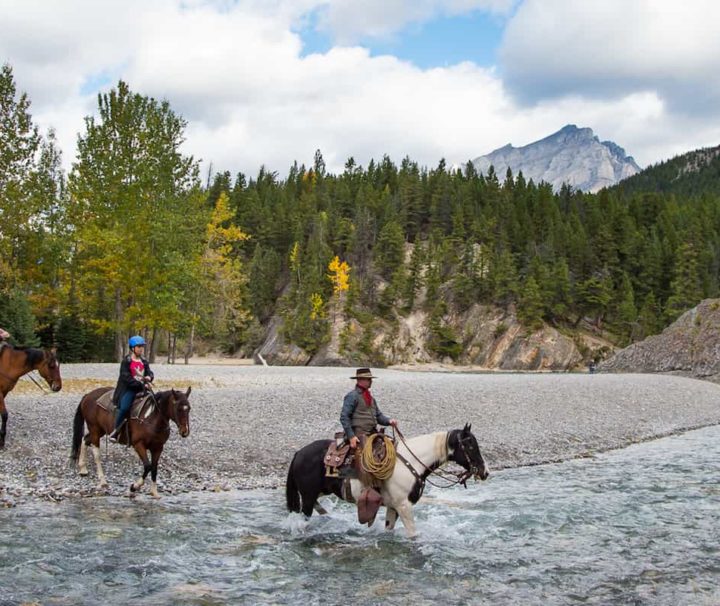 Cross a tranquil river on horseback and then admire an enchanting Rocky Mountain waterfall. The one-hour Spray River Horseback Ride gives you a great introduction to the untouched wilderness that can be found just outside the Banff townsite. Breathe in the pine-spiced mountain air as your friendly guide leads
Explore the spectacular Rocky Mountain scenery on this four-hour Sulphur Mountain horseback ride excursion. Ride two thirds up Sulphur Mountain, one of Banff's most iconic mountains, visit a famous landmark hotel, spot elk or coyotes in the brush and then cross the tumbling Spray River in this half-day adventure.
4 Hour Sulphur Mountain Ride
So, what makes these two river crossing rides different? Well, the first obvious difference is time. While we definitely recommend the 4 hour horseback ride with stunning stunning views across the valley and of Canada's 'Castle in the Rockies', we understand sometimes schedules don't allow for longer rides.
Of course, topped with the added excitement of crossing the Spray River, the one-hour ride is just a small portion of our longer half-day Sulphur Mountain Ride that also runs up 2/3rds of the way up the Sulphur Mountain with return views of Rundle Mountain.
After your ride, check out the very hotel you viewed from an entirely different perspective. The Fairmont Banff Springs is a historical icon to the start of tourism in Banff, and definitely worth a visit. River crossing trail rides in Banff are found with Banff Trail Riders and both our one-hour and three-hour half-day tours give an unforgettable Rocky Mountain experience in Banff National Park.
Book now, saddle up and come along for the best horseback riding with Banff Trail Riders!
Like this article? Pin it! or share these tips for horseback riding in Banff National Park, with other travellers.