Why Cowboy Cookouts are our Most Popular Family-Friendly Ride:
If there are two things Alberta knows best it's cowboy culture, and steak.
Renowned for its 'Alberta Beef', the province has made a name for itself with its award-winning beef, farming techniques, and of course the culture that comes with it. There is no better way to experience both a Banff horseback ride and a cowboy BBQ cookout than by joining us at our Warner Stables in Banff.
All Ages Are Welcome
This unique experience is ideal for groups with a variety of ages as it's one of just a few horse adventures that suits any age. Plus for those traveling with kids in the wagon, infants (0-3 years) are free of charge and children (4-12 years) have a discounted rate.
Choice of Horseback or Wagon Ride
With your choice of a horseback ride (for riders 8 years or older) or a wagon ride for any age, it's the perfect activity for the whole family!
Whether everyone rides a horse or some of the family choose to take the wagon, you'll all enjoy the same incredible ride along the Bow River and meetup at our 3 Mile Cabin for an unforgettable BBQ.
BANFF'S BEST COWBOY COOKOUT RIDES
Take a relaxing wagon ride along the Bow River. Re-join the horseback riders in the group for an authentic cowboy dinner. Arrive at 3 Mile Cabin to enjoy genuine western hospitality and some tasty comfort food. But before digging in, work up an appetite with a few western-style games, like
Get a taste of the mountain air with a horseback ride along the base of Sulphur Mountain in Banff, to a delicious cowboy cookout BBQ meal at 3 Mile Cabin. First you'll ride along the Bow River while watching for wildlife and enjoying the spectacular scenery. Midway through the ride,
Wildlife and Views
Gentle and great for anyone 8 years and above, you'll trot on your horse along the Bow River as its turquoise glacial waters flow by with common sightings of muskrats and beavers. This area is a wide open river valley that is like nowhere else in Banff National Park. Take in the bird sightings, peaceful quiet environment, vibrant and lush mountain scenery, and feel free to ask our guides questions about our horses, riding and life in Banff. Taking the wagon ride option? Don't worry, you'll travel along a nearby path with the same incredible Bow River and mountain views.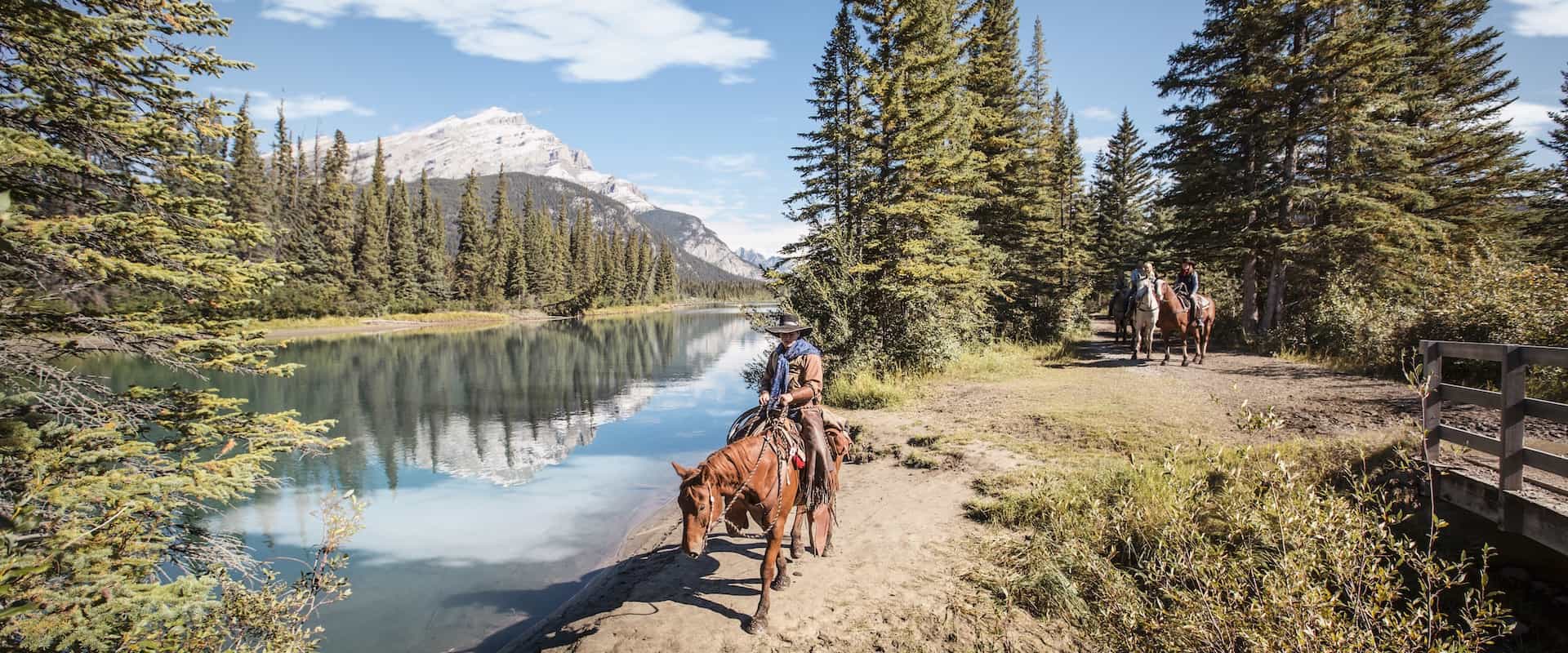 Making your way to Sundance Canyon, the views never stop – passing bikers, hikers, and canoes compliment the ample recreational opportunities of this area. It cannot be emphasized enough how alive this area truly is – the sights, sounds, and fresh mountain air overwhelms senses and makes this experience and all Banff National Park moments into memories.

Western Games
When you arrive at the mid way point, 3 Mile Cabin, everyone can enjoy work up an appetite with some cowboy games like horseshoe and lassoing, while our backcountry cooks get to work cooking up a delicious backcountry meal. This is the best way to experience life as an Albertan cowboy or cowgirl.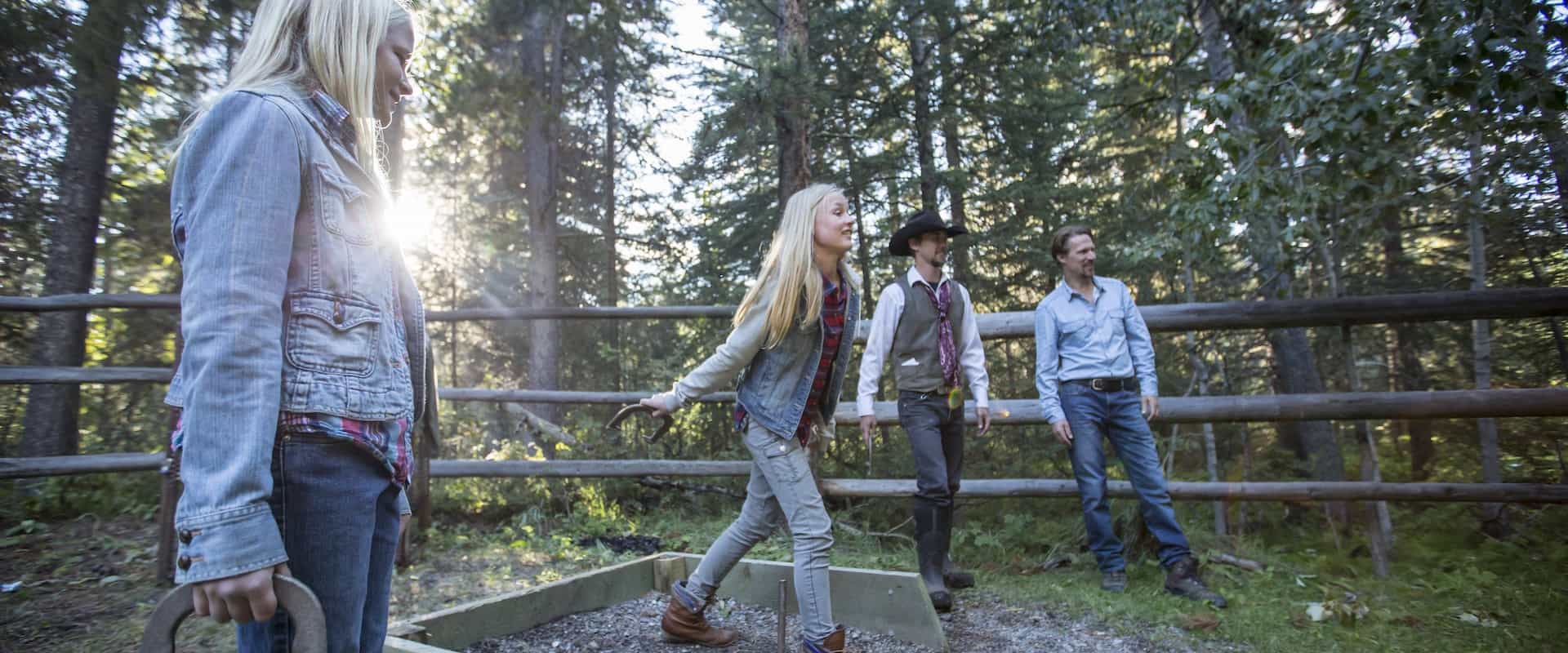 Delicious Steak Cookout
Mealtime comes just in time after games and time enjoying the forest air. BBQ steak to your liking, potatoes, in true cowboy cookout fashion – this will be a meal to remember. Not a steak lover? Not to worry! Dietary restrictions and vegetarian options are always welcome as well. After our stomachs are full and our arms are tired from perfecting the perfect lasso, it's time to make our way back to Warner Stables. Evening cookout visitors are treated to spectacular sunsets as the sun makes its way down perfectly between mountains.

Book now, saddle up and come along for the best cowboy horseback riding with Banff Trail Riders!
Like this article? Pin it! or share these tips for horseback riding in Banff National Park, with other travellers.